Meet Peggy!  A sweet gnome girl, an 18in OOAK doll by Atelier Lavendel.
She comes with 10 sweet pieces of clothing and accessory.
So, where shall I start? Her wide and long red polka dotted cotton dress is perfect for playing  in the woods. Little folk loves shiny colours, they say. Her dress  is decorated with fine cotton lace, matching panties as well. On her green pinafore is always tinkling  a tiny silver bell. Her woollen jacket is very special. An enchanted friend, the Lucky Mushroom, is sleeping on it.  One would say, it is embroidered. But we know. ; ) By the way, the jacket has a handmade loop and a sea shell button in the shape of a flower as a closure. It is lined with organic cotton jersey.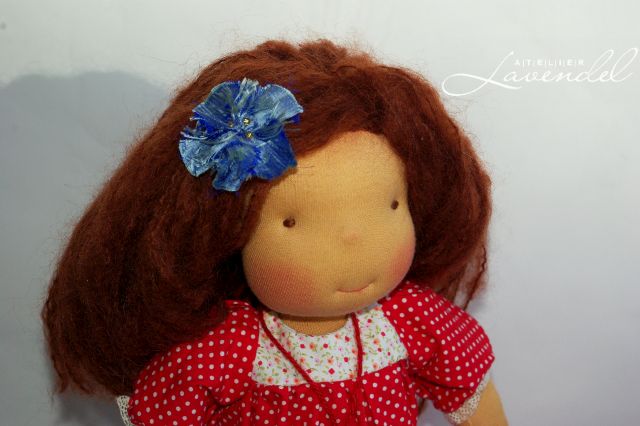 Oh, yes. Her jewerlley. It is a lampwork necklace, her red bracelet and her hair-pin, of course. Her pointed hat is made with cotton velvet, the round tassel on it is silk/wool blend.
Peggy has ears, a belly button, sweet bum,  sculptured knees and elbows, she can sit free.
And here she is, looking for a new home.  Available here and here.