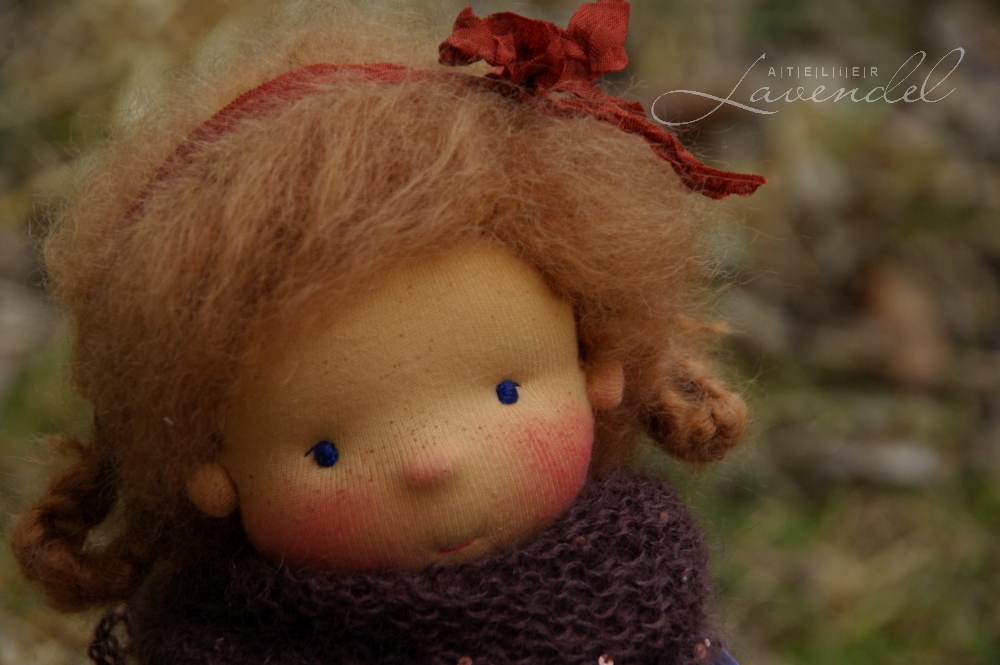 I believe in the impor­tance of toys with beau­ti­ful nat­ural qual­ity. All my dolls are designed and hand­made by me with lots of love, care and pre­ci­sion, using organ­ic high qual­i­ty nat­ur­al mate­ri­als. Every lit­tle soul I cre­ate is made one at a time. Every­one of them has its own lit­tle soul, its own per­son­al­i­ty.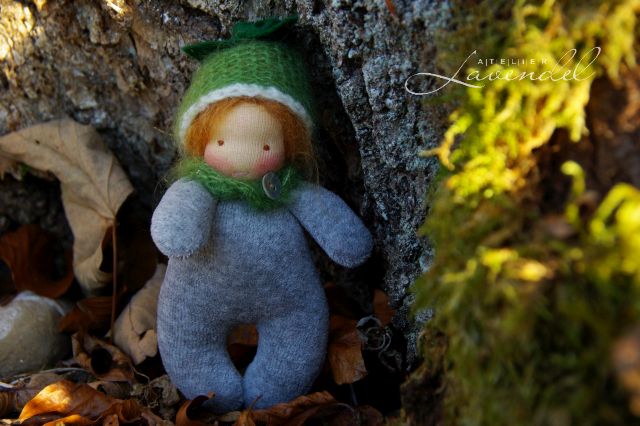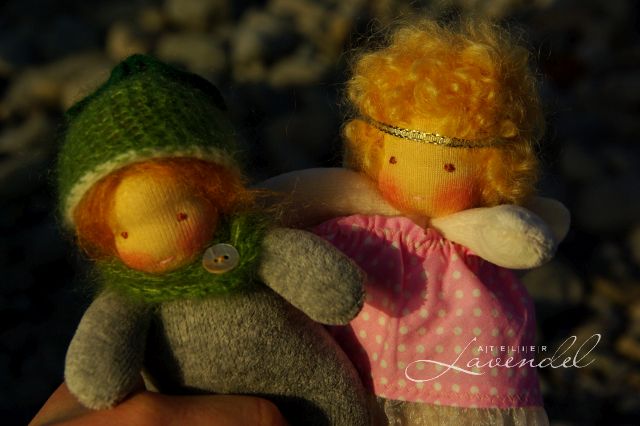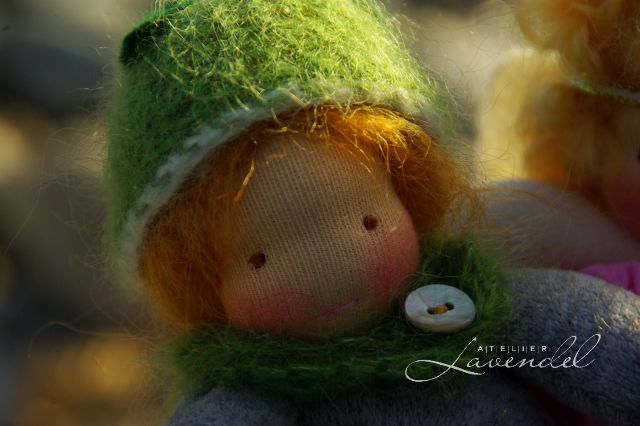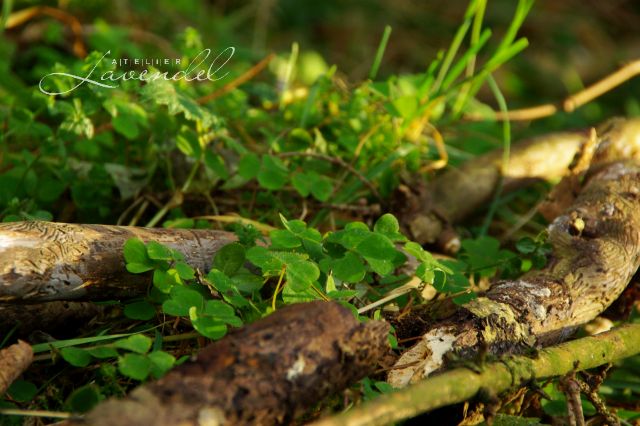 Cre­at­ing my dolls I use my own pat­terns which I am con­tin­u­al­ly alter­ing. Ten years of doll-mak­ing expe­ri­ence give me the nec­es­sary sup­port by con­stant­ly improv­ing my skills. It takes me many hours to awake a doll to live.
My large dolls require weeks of work. Cre­at­ing these dolls I strive to make my idea of a child, of hap­py child­hood in this world as I see it, vis­i­ble and expe­ri­ence­ble. Most impor­tant are the mate­ri­als I choose for it. Nat­ur­al, most­ly organ­ic fibers and yarns, I expect them to speak to your hands too, to tell them their sto­ries, to inspire, to awake mem­o­ries and dreams.… Antique lace and fab­rics, vin­tage acces­sories and small trea­sures of old might add their spir­it of time as well.… Above this, these nat­ur­al fibers art dolls are made stur­dy and safe enough, to enable them to be what I feel a doll to has to be in a first place — true com­pan­ion with­in a free imag­i­na­tive play.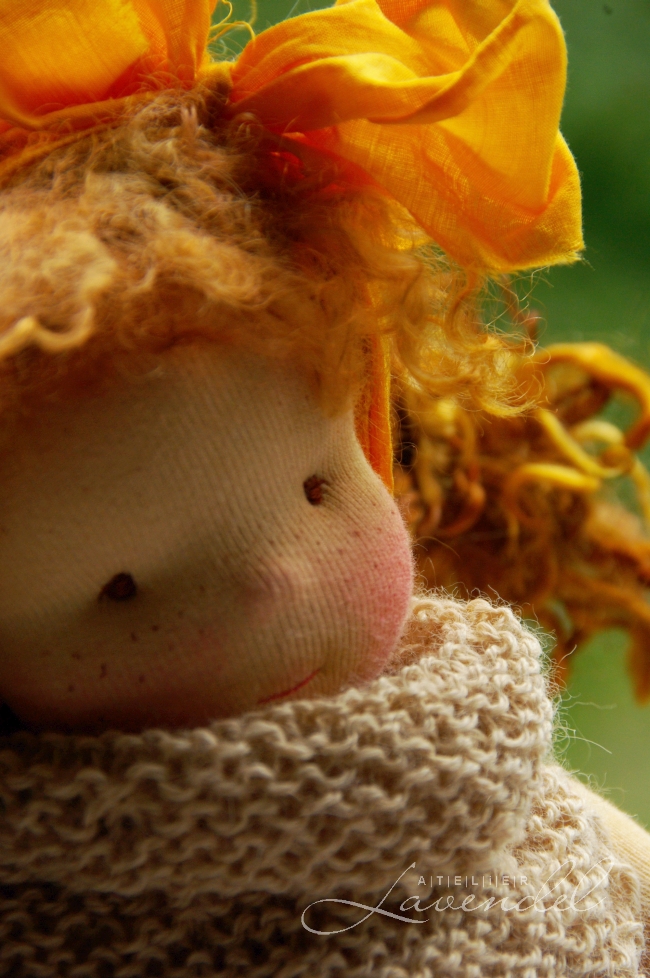 In my stu­dio I am doing all by myself, from the very first sketch or idea and doing research for the fab­rics and yarns, draw­ing the pat­tern, sew, knit, stuff, cro­chet and embroi­der to tak­ing pic­tures, edit­ing, pack­ag­ing and ship­ping. It gives me the feel­ing of a deep con­tent to watch every step of this won­der­ful mag­ic, of a won­der­ful awak­en­ing out of some­where, out of an idea, an inspi­ra­tion, of some scrapes of fab­ric and flakes of wool — the mag­i­cal awak­en­ing of a lit­tle soul.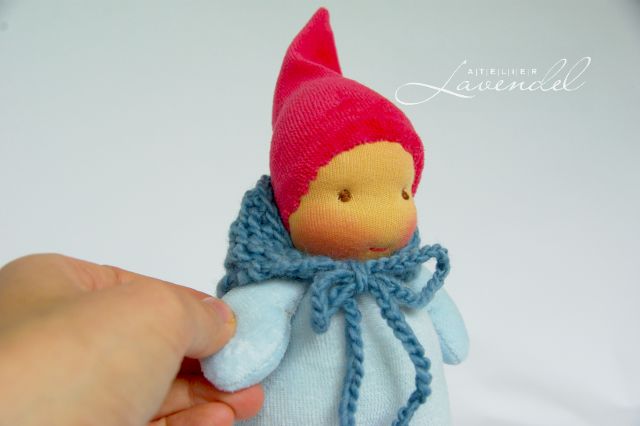 For my dolls I choose pure nat­ural best qual­i­ty avail­able fibres, such as organ­ic cot­ton and linen fab­rics, clean organ­ic wool and wool felt, plant dyed yarns and organ­ic silk. For my doll´s stuff­ing I use local clean sheep wool from bio­log­i­cal work­ing farms here in Ger­many. For dolls skin I take high qual­i­ty stur­dy doll mak­ing cot­ton inter­lock, tra­di­tion­al­ly pro­duced in Switzer­land. I usu­al­ly take mohair for dolls hair. Ate­lier Laven­del dolls are stuffed very firm­ly and have free mov­able arms and legs. Their facial fea­tures are lov­ingly hand embroi­dered. I love their min­i­mal­is­tic kind which allows them to keep the light of the inno­cence child­hood on them. Every one Ate­lier Laven­del doll is made as one-of-a-kind.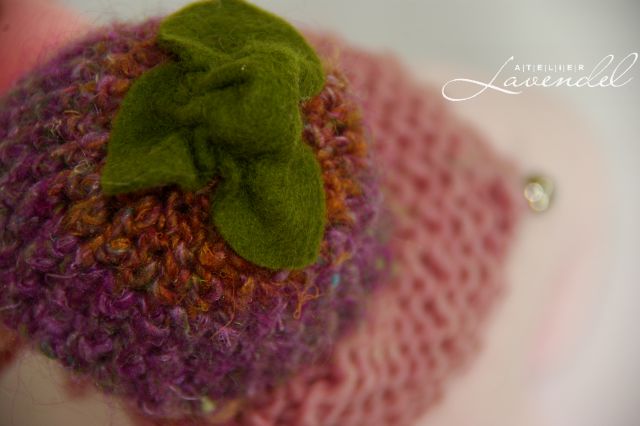 Ate­lier Laven­del dolls come to the cus­tomers packed as a gift and com­pleted with laven­der buds sachets. My 14 inch­es to 20 inch­es tall cloth dolls bring with them addi­tion­ally a small care kit, includ­ing a nat­ural beeswax cray­on and a piece of soft fab­ric for love­ly cheeks, an extra strong sewing thread and a note with detailed care instruc­tions.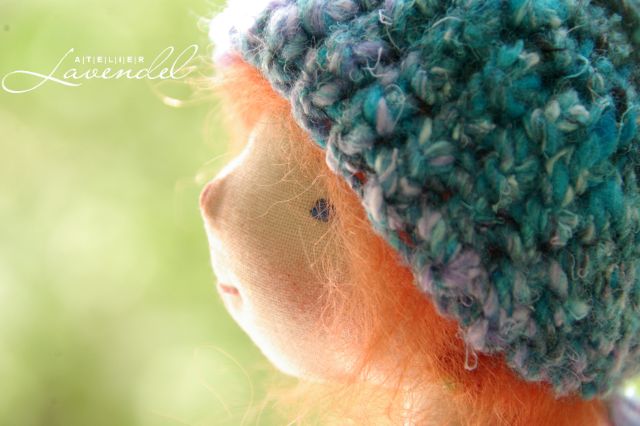 CARE INSTRUCTIONS
Ate­lier Laven­del dolls may be hand washed in luke­warm water with a small amount of wool deter­gent or mild soap. Please, try to do spot clean­ing as long as pos­si­ble, before wash­ing your doll com­plete­ly. Do not twist or wring the doll as long as it is still wet. After wash­ing wrap the doll care­ful­ly in a fluffy tow­el and gen­tly squeeze out the water. Repeat that sev­er­al times. Place the doll back down on a cozy tow­el and let it dry for a cou­ple of days.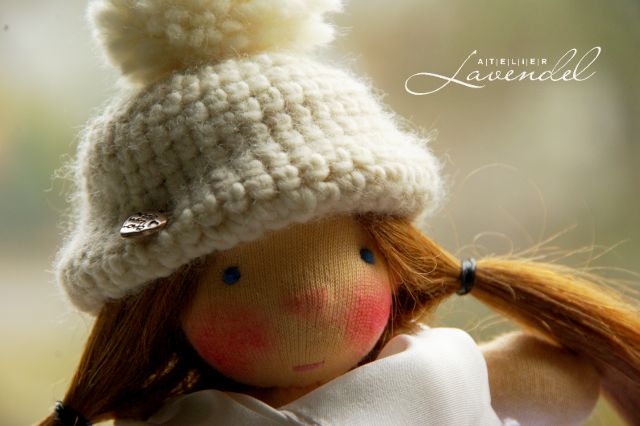 SAFETY
Ate­lier Laven­del dolls are made with lot of love, care and pre­ci­sion. For safe­ty rea­son they are to be checked reg­u­larly, like any oth­ers toys. Please, help your doll stay healthy! If you see a run – seize to the nee­dle and to the thread. In your pack­age you will find match­ing extra strong thread, which I use for my dolls. Should the dam­age seem to be get­ting worse, please feel free to con­tact me direct­ly.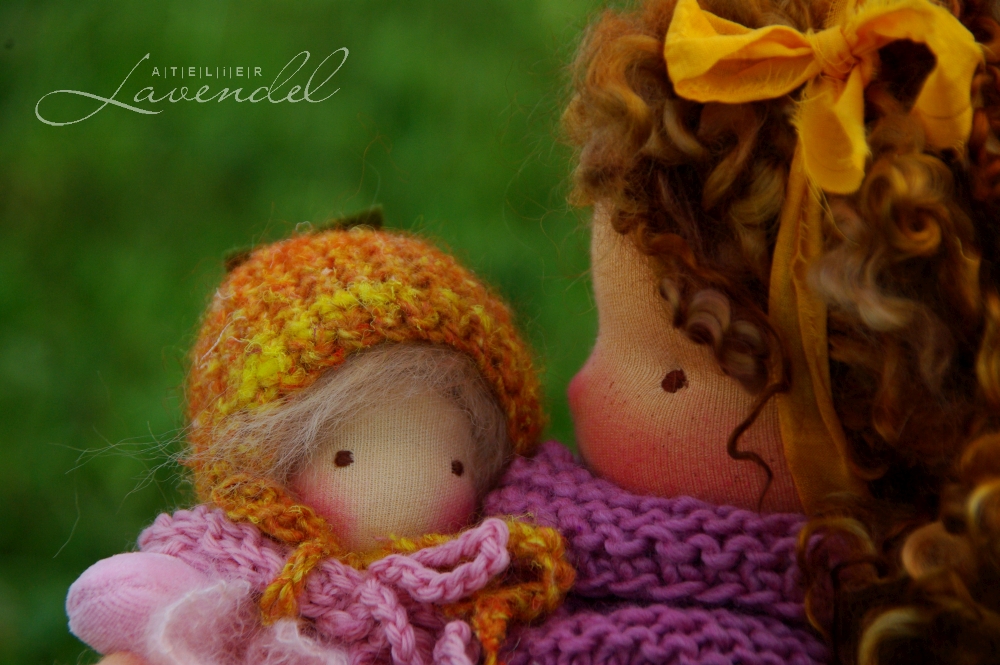 SHOP
Ready-to-go Ate­lier Laven­del OOAK dolls, Wal­dorf inspired dolls, Fairies, Dwarfs, Bears
and organ­ic nat­ur­al acces­sories are list­ed in my Etsy-shop. Cus­tom orders are wel­come!
In my port­fo­lio there are some more pic­tures of my lat­est Ate­lier Laven­del cre­ations — get inspired!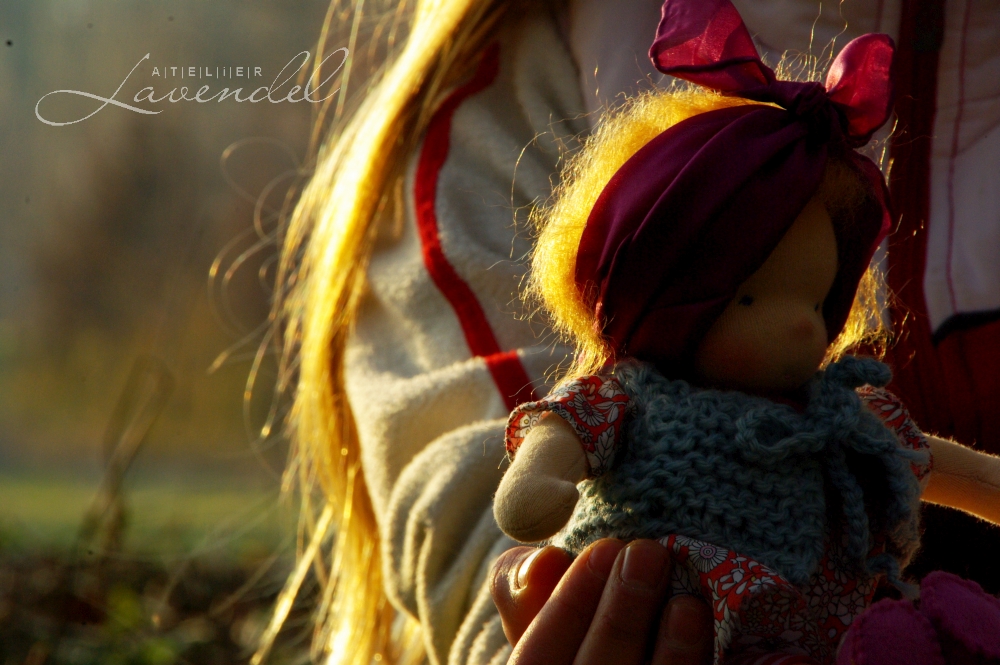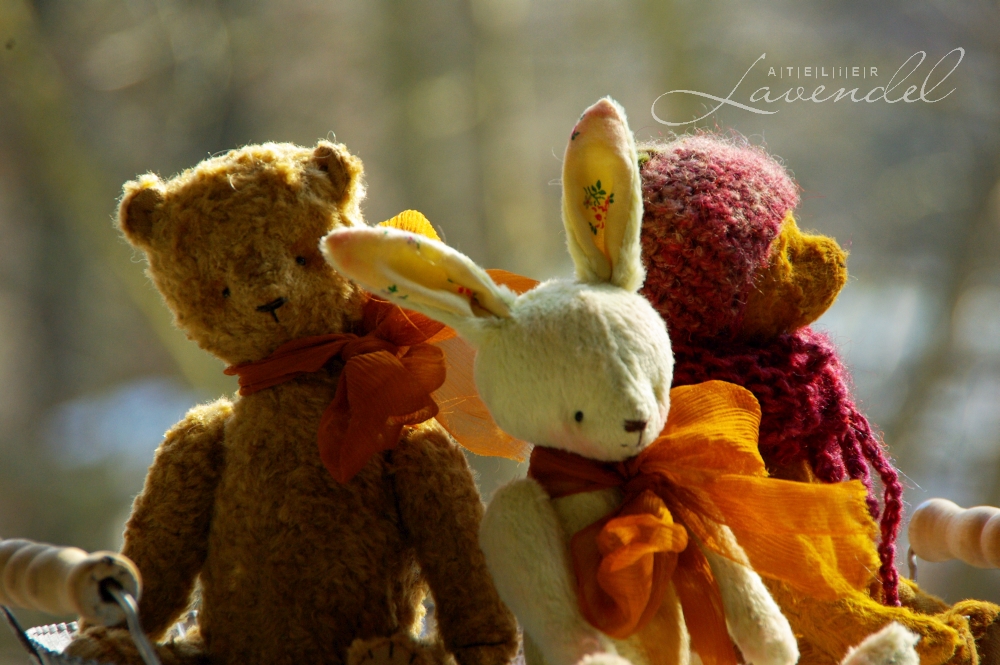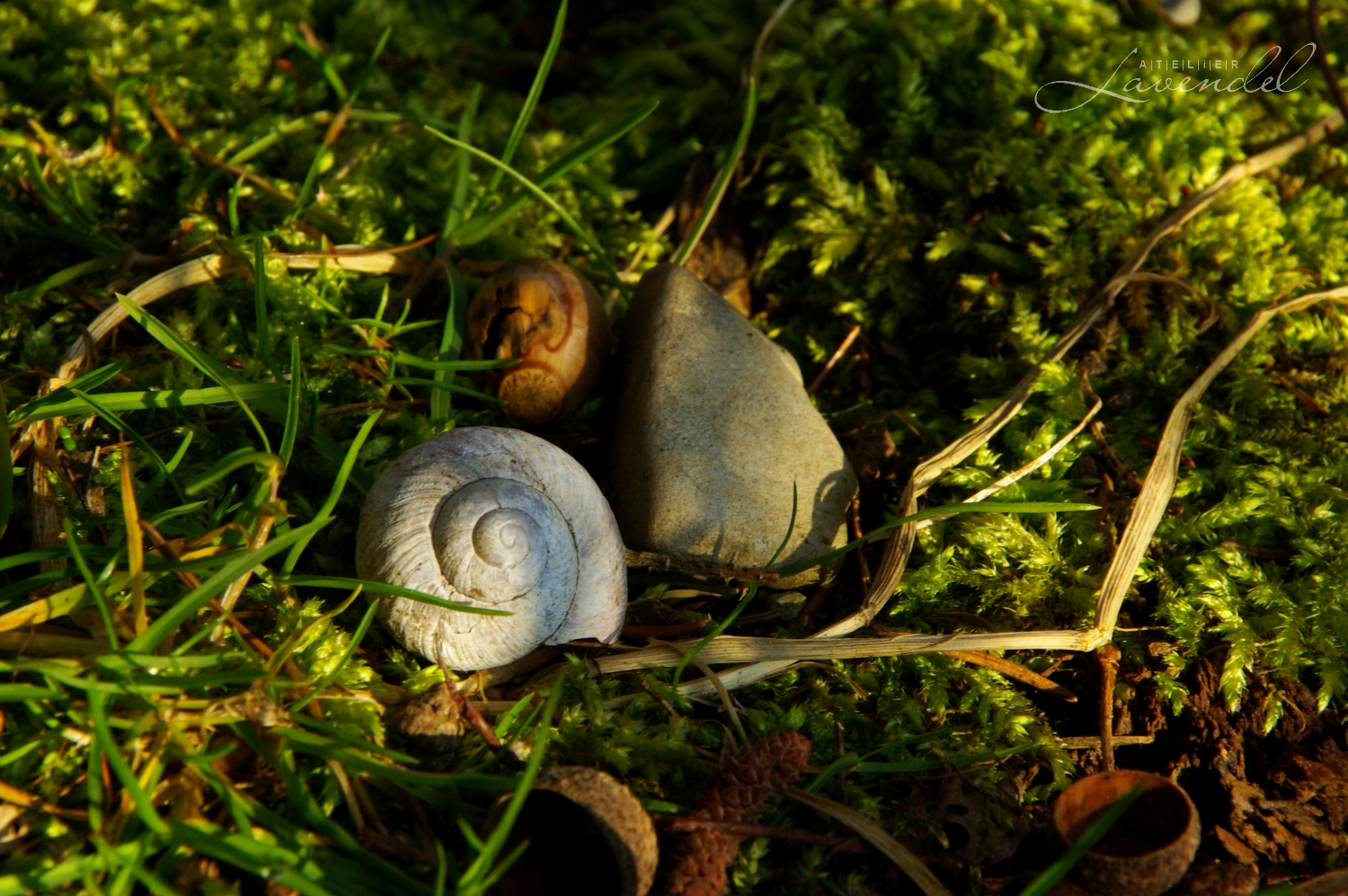 ♥♥♥