This is Lindy, a 18in  (45cm)  OOAK cloth doll by Atelier Lavendel. She is lovingly handmade
by me using organic high quality materials only.
Enjoy lots of tiny sweet details to be discovered here and there!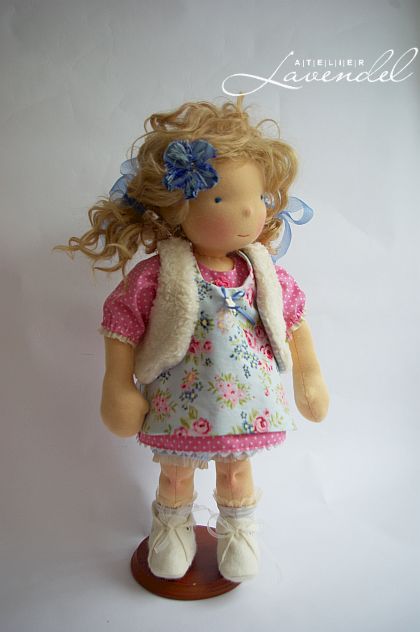 Look, here!  :  )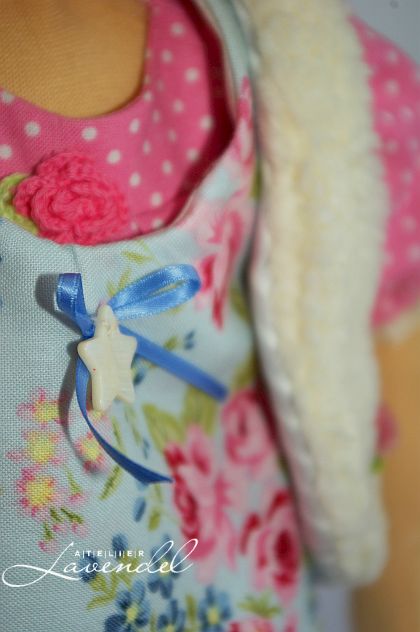 And there too !  : )
Lindy is wearing a pink polka dotted cotton dress with a rick rack edge and white cotton jersey panties beneath (the last is not pictured). Her trousers are made with light blue linen fabric. My favorite is her reversible tunic. I have made it with nostalgic flowered cotton fabric and decorated with a tiny sea shell star on the one side. On the other side it is made with soft and quite cotton fabric in crème with white polka dots. The tunic is to close with a pair of sea shell buttons in the shape of a daisy flower and handmade loops. The cosy jacket of white organic cotton fur is lined with organic cotton jersey. I have decorated it with a hand felted tiny rose bud. Lindy's  off-white scarf and her shoes are of pure high quality wool fleece. The deep blue flower in her hair is a safety hairclip, made organic with silk and golden glass beads in the middle. It can be put off. Dolls outfit is completed with a pink crocheted hair band, made with plant dyed wool and a pair of organza hair-bands for her sweet pigtails.
All her clothes are removable and washable. This doll has blue eyes, which are carefully hand embroidered. Her long locks are of yak hair. This doll has ears, sculptured knees and elbows, a belly button and a sweet bum. Lindy is stuffed very firmly with organic sheep wool. She has floppy limbs and is free pose-able. Lindy is now awailable here and here.