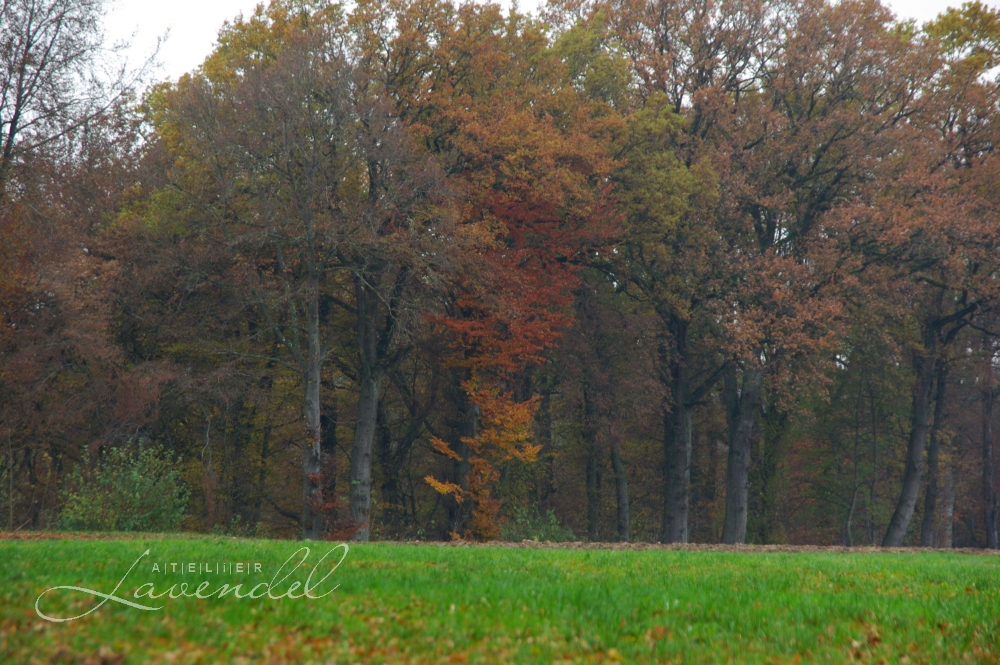 Last days of Autumn… Last lights of Autumn… Mists and falling leafs… And here she comes: Lot­tie…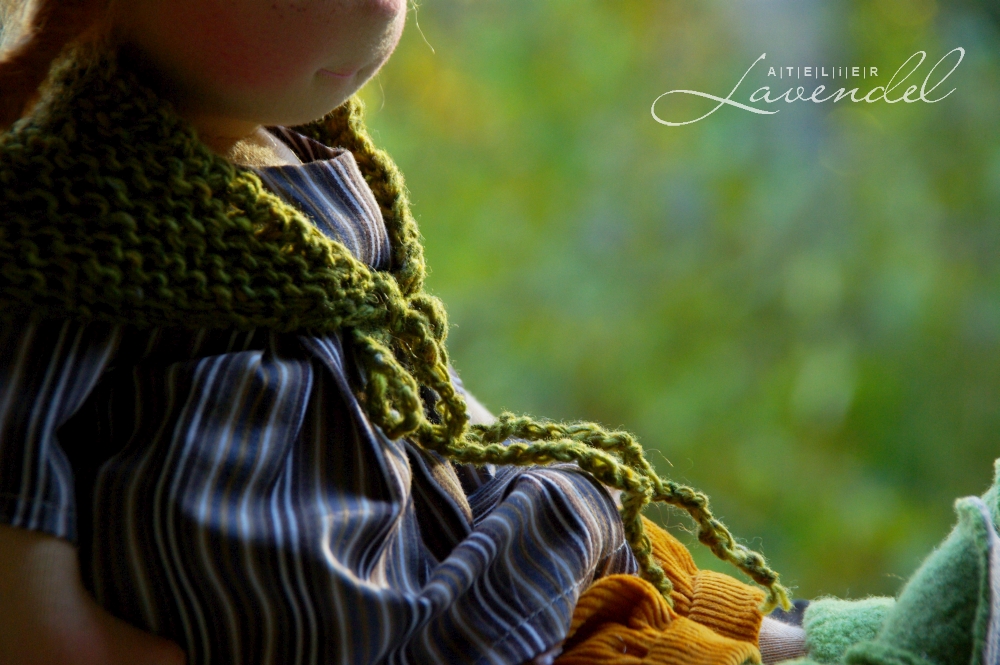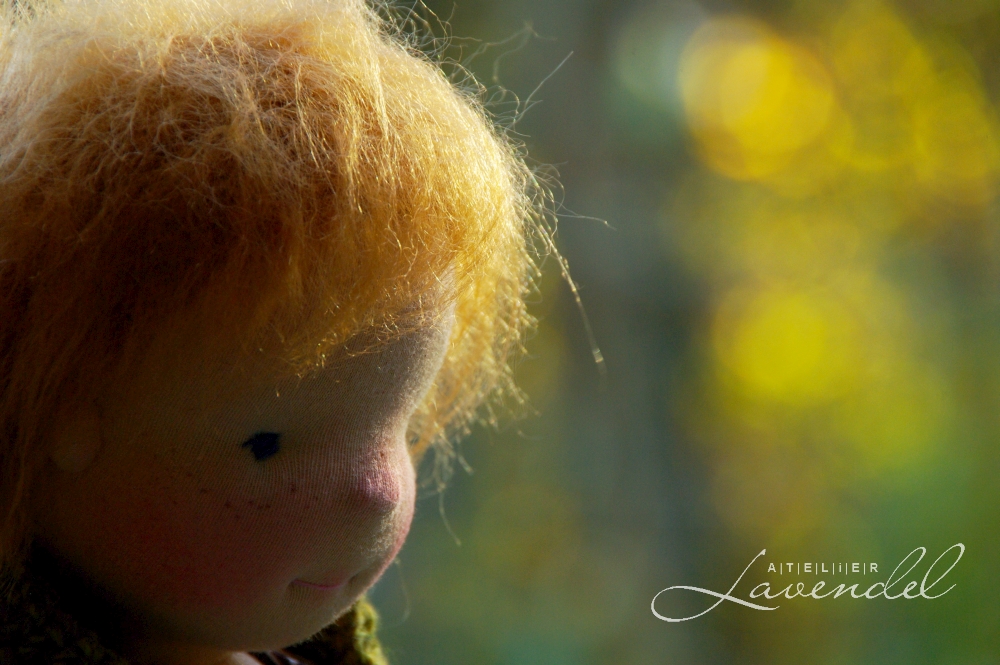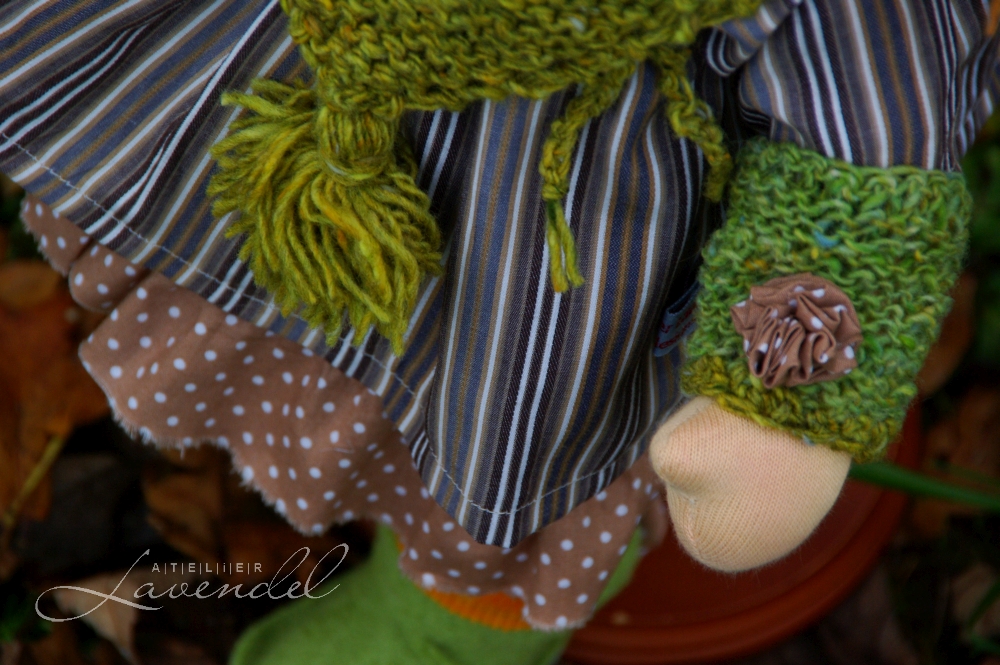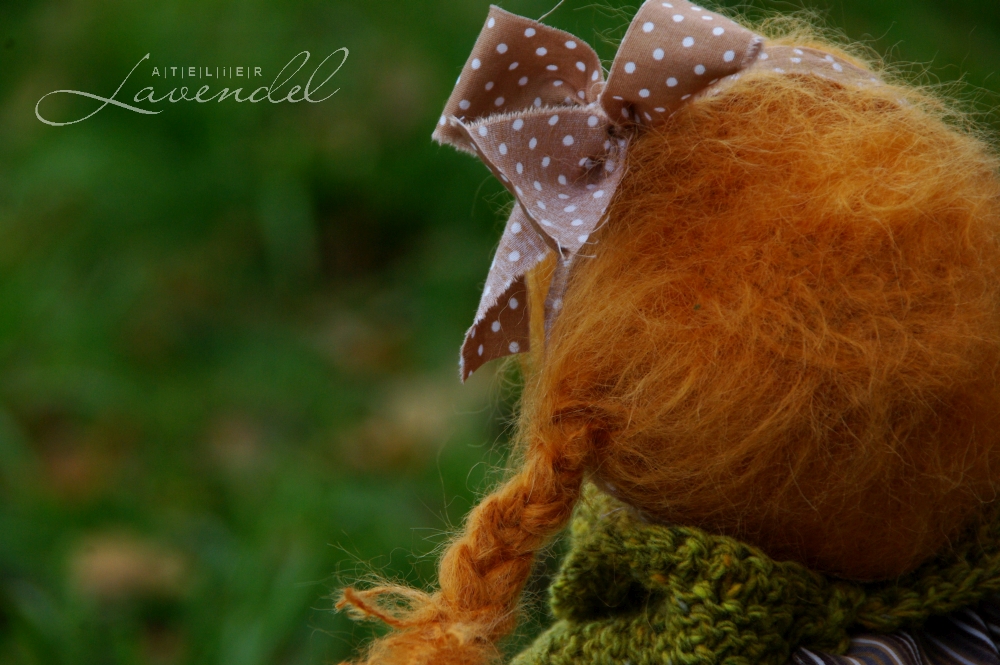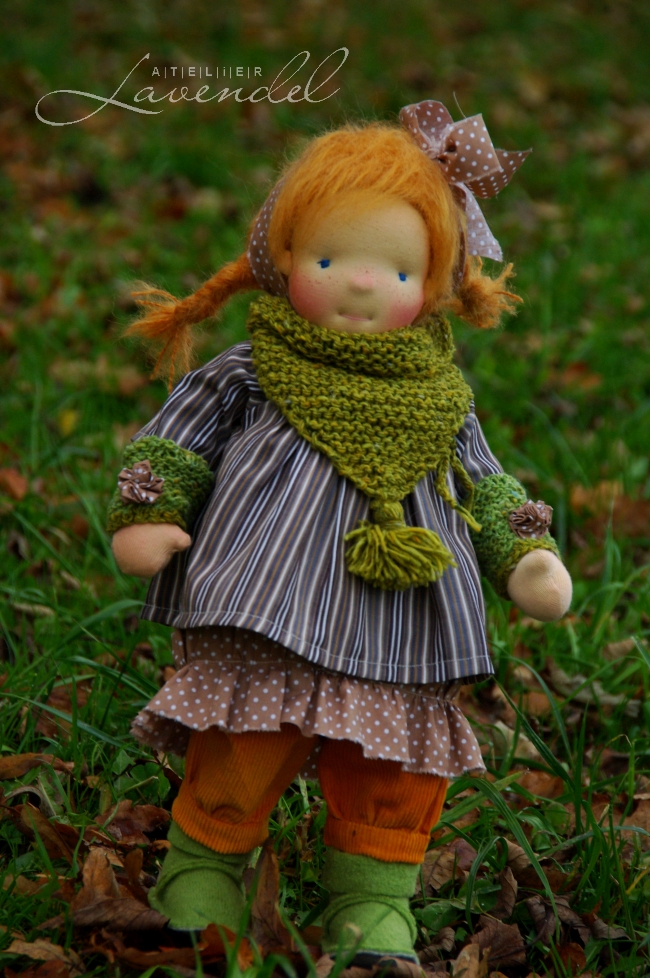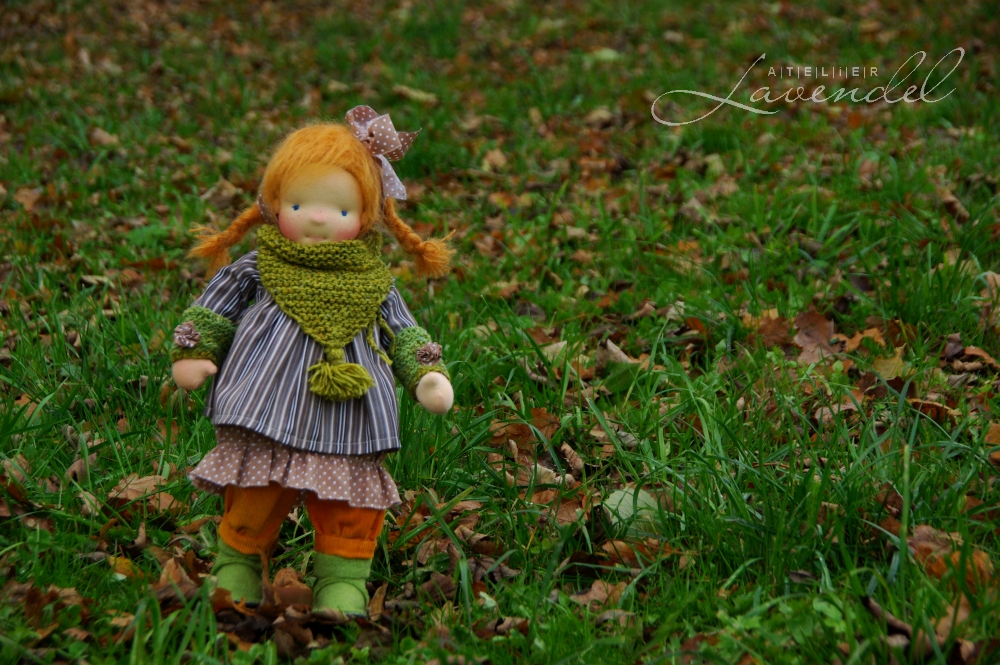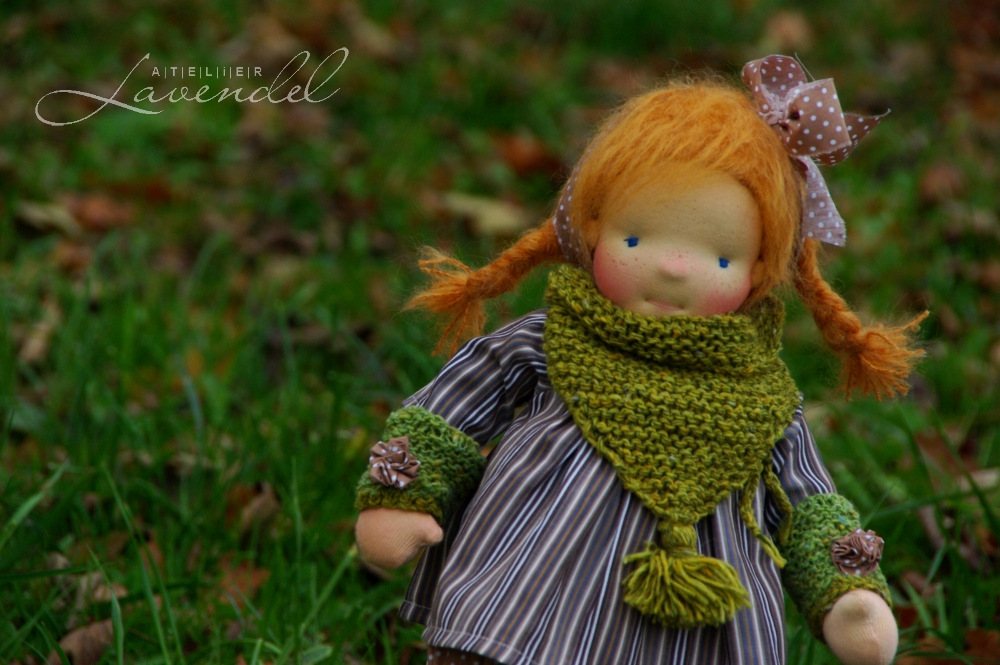 I want you to meet Lot­tie the Gnome Girl. Lot­tie is an OOAK doll, stand­ing 16inches (41cm). She is wear­ing a stripped cot­ton dress and an under­skirt of organ­ic cot­ton fab­ric. She has knicker­bock­ers of organ­ic cot­ton baby cord and undies beneath. Her boots are made with high qual­i­ty wool felt, they are dec­o­rat­ed with applique on the back. Her cowl with pom­pom and the match­ing hand warm­ers are knit­ted of a orig­i­nal Irish Done­gal tweed with a won­der­ful and rich touch.
Lot­tie has blue eyes, which are care­ful­ly hand embroi­dered with a cot­ton embroi­dery thread.
Her hair are made with won­der­ful Dol­ly­Mo mohair, cro­cheted into a cap. Her braids are secure­ly fas­tened on both sides of her head pony-tails style, they can be restyled and gen­tly combed. Her head is soft sculp­tured of card­ed clean organ­ic sheep wool. Through the inner tex­tile arma­ture in her neck the head is slight­ly mov­able, gen­tle but most expres­sive ges­tures and expres­sions are pos­si­ble. This doll has artic­u­lat­ed knees and elbows, a neck, ears, a bel­ly but­ton and a sweet bum. She can sit nice­ly. The body is firm­ly stuffed with 100% organ­ic pure wool; the "skin" is of high-qual­i­ty 100% cot­ton inter­lock from tra­di­tion­al Swiss man­u­fac­ture. All seams are dou­ble-sewn for more dura­bil­i­ty. All her clothes are remov­able and wash­able.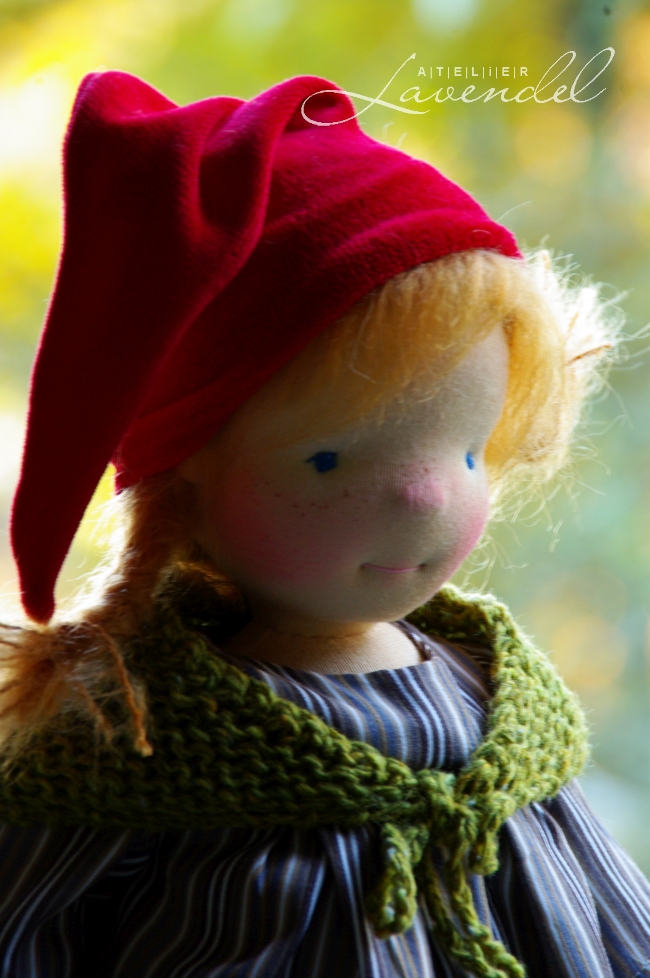 Lot­tie is now avail­able here .
♥♥♥