This is Jenny, a 18in (46cm) OOAK cloth doll by Atelier Lavendel.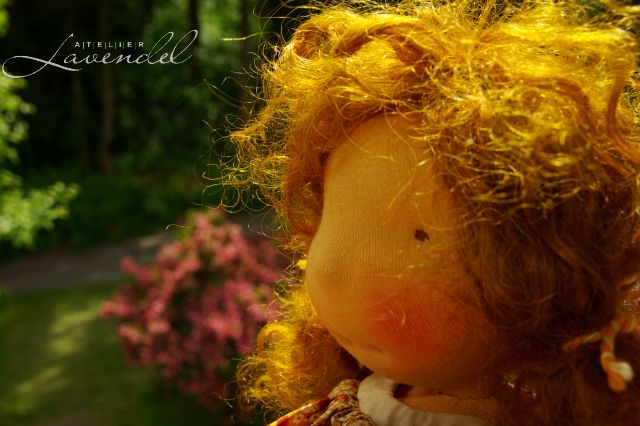 Jenny is designed and handmade by me using organic high quality materials only.
Jenny is wearing a Liberty of London cotton dress with organza edge and white cotton jersey panties beneath (the last is not pictured). Her short trousers are made with leaf green linen fabric. Her tunic is made with pure high quality wool fleece and decorated with a crochet spring flower, on the other side is a "My Darling/ mein Schatz" lable to be seen. The tunic is to close with a pair of sea shell buttons in the shape of a daisy flower. Her booties are of pure high quality wool fleece, her socks of organic cotton jersey. Dolls outfit is completed with red silk scarf and a knitted hat made of pure new wool. All her clothes are removable and washable.
Jenny is  made to be a companion and a true play mate within a free imaginative play.
She is now available here.