♥♥♥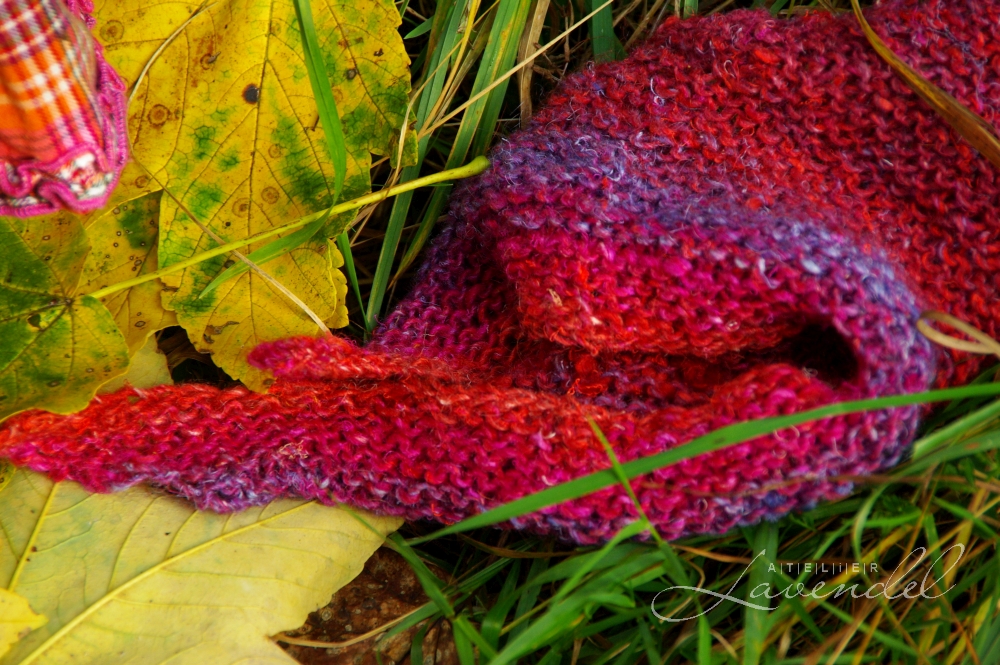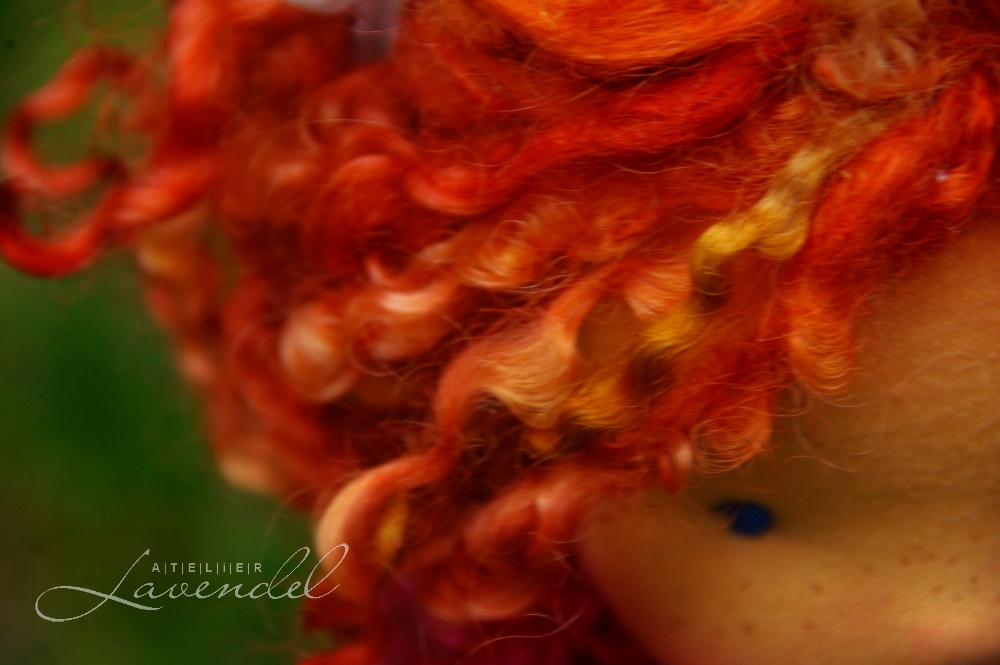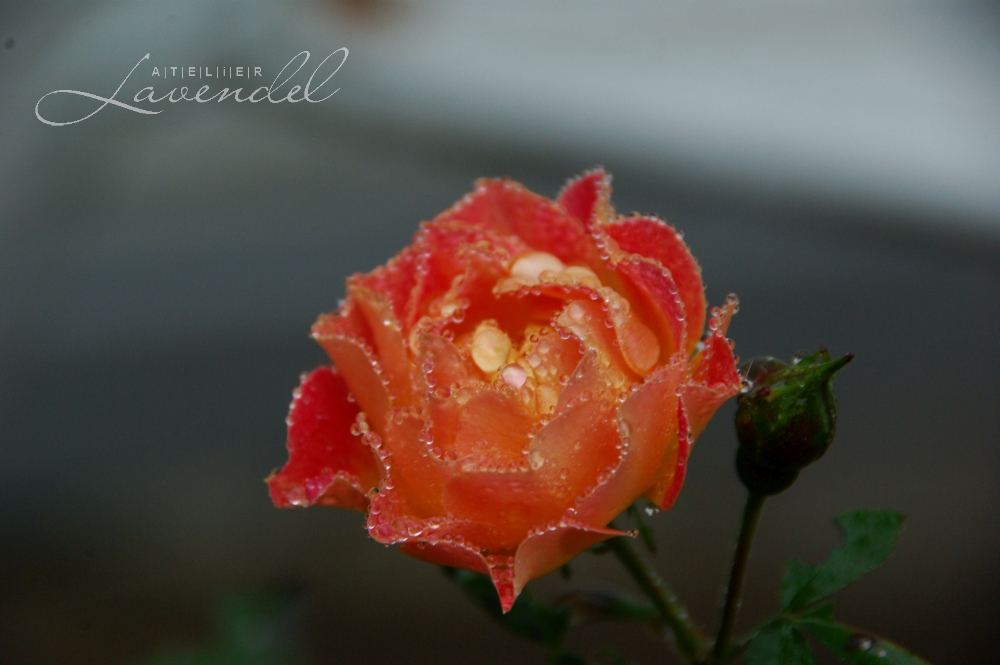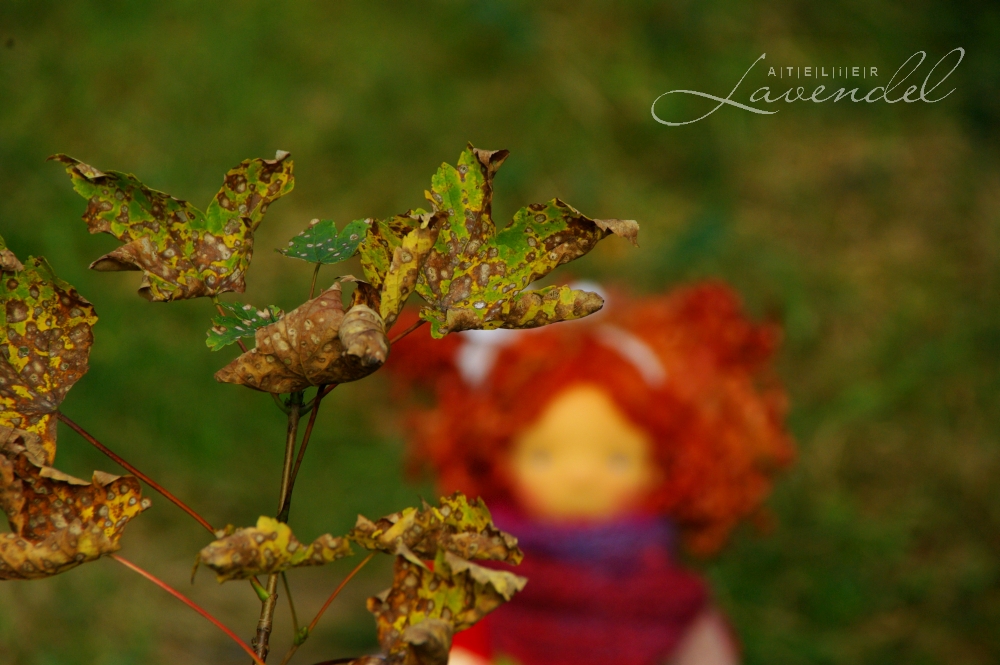 After a wonderful inspiring Summer we enjoy all the gorgeous colours of the Autumn, now sparkling everywhere. Though the days are getting definitely colder, you can virtually feel, that the brightness of the sky and the sunshine is still not far behind.  Inspired by this amazing colours and textures there came – Margit. With all the shades of deep red and sunny orange, bright  yellow and warm brown, she is just here. So, I want you to meet Margit!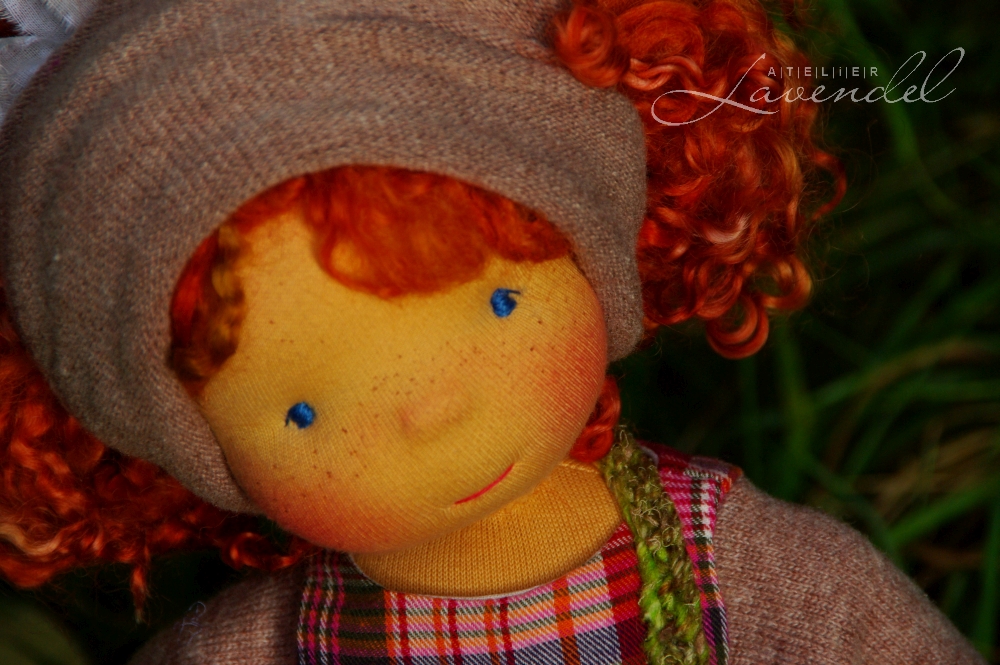 Margit is an OOAK doll, standing 16 inches (40cm) , handmade by Atelier Lavendel with lots of  love and attention to details. She has blue eyes, which are carefully hand embroidered. Her hair  is made with hand dyed and hand sewn weft, crocheted into a cap, it can be  restyled and gently combed. This doll has a neck, ears, a belly button and a sweet bum.  She is weighted and  can sit nicely. Her head is soft sculptured of carded clean organic sheep wool. Through the inner armature in her neck the head is slightly movable, gentle but most expressive gestures and expressions are possible. The body is firmly stuffed with 100% organic pure wool; the "skin" is of high-quality 100% cotton interlock from traditional Swiss manufacture. All seams are double-sewn for more durability.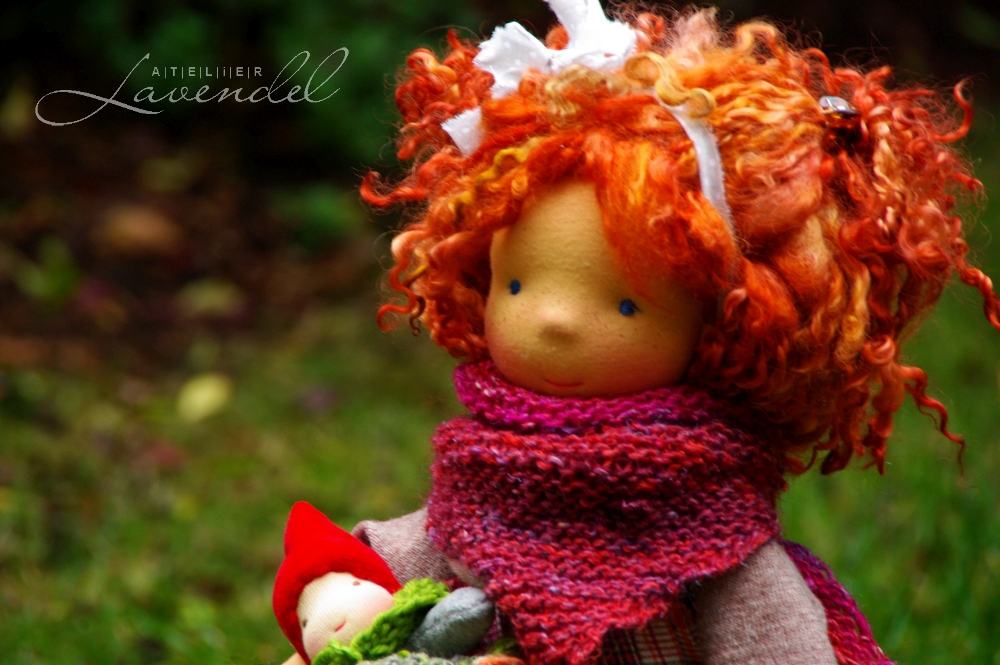 Margit wears a dress of vintage cotton fabric and cashmere knit, matching hair band, which can be worn as a cowl or just be put off. Beneath she wears an underskirt of organic cotton, matching socks  and undies. For her crochet cowl I used a wonderful wool/silk blend in gorgeous Autumn colours. Her cosy shoes are made with pure wool felt in green and n moss green.  All  clothes are removable and washable.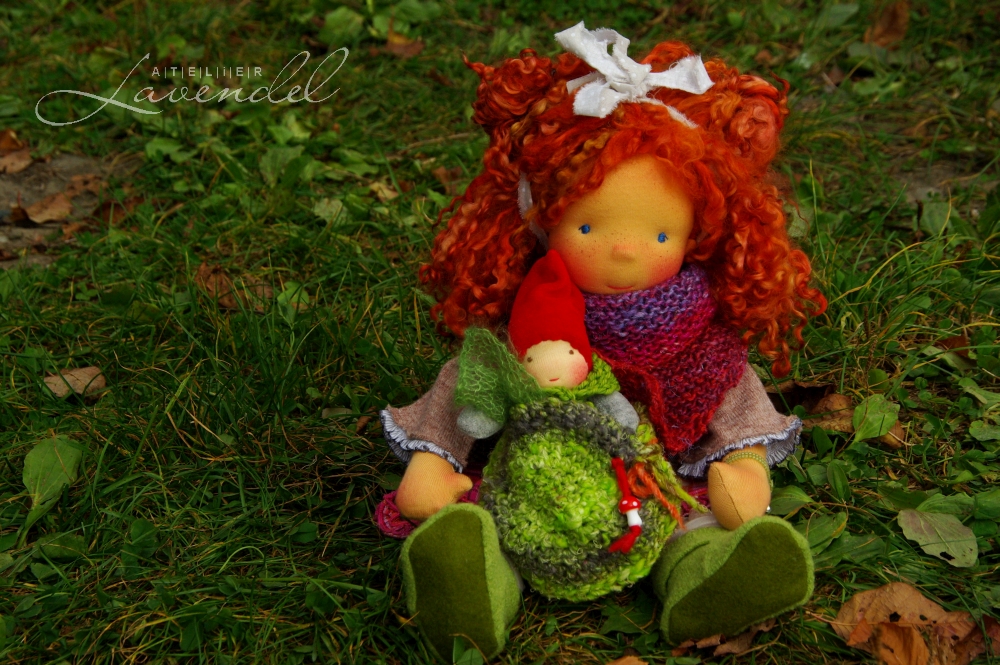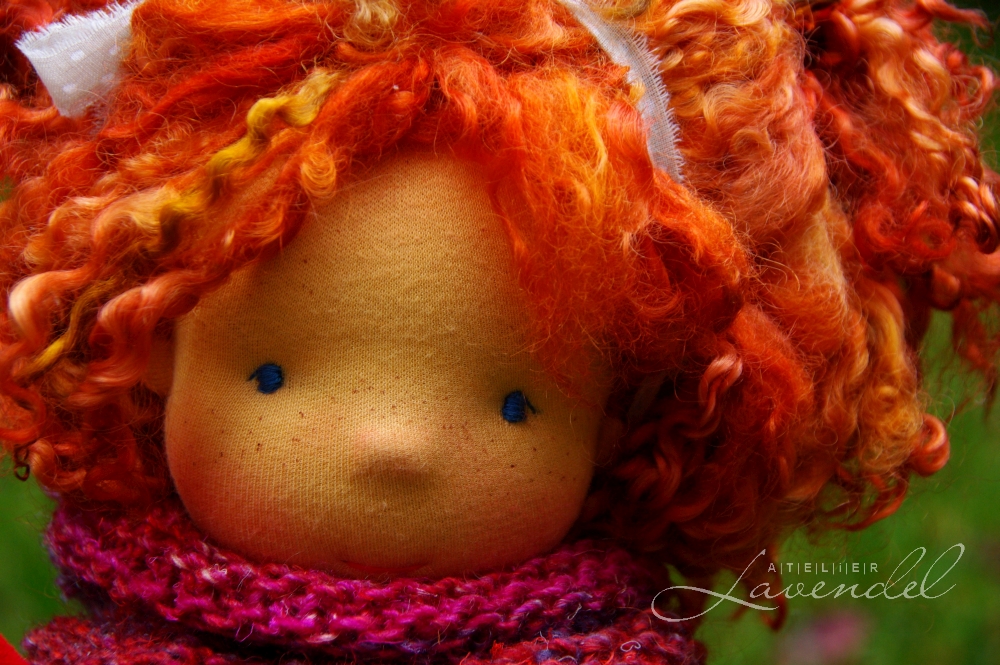 Margit´s special heirloom is her genuine Peridote  gems bracelet.  Peridote is believed to increase self-esteem and energy. Balances and dissipates negative energy. Promotes success, abundance and clear thinking.protective and lucky when worn as jewellery. Tiny 2,5mm genuine Peridote beads are strung here on moss green  silk cord with the ends left decoratively to fray.  This bracelet is to close securely and comfortably  with a  magnetic silver metal closure. It is 7 inches long, so that it would make a sweet bracelet to a girl or young woman.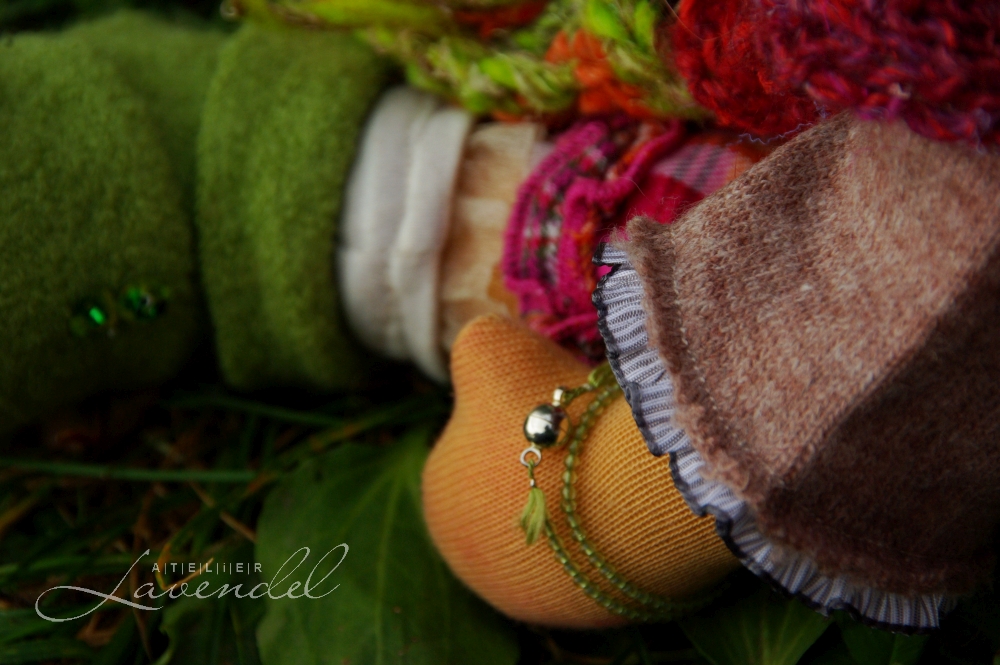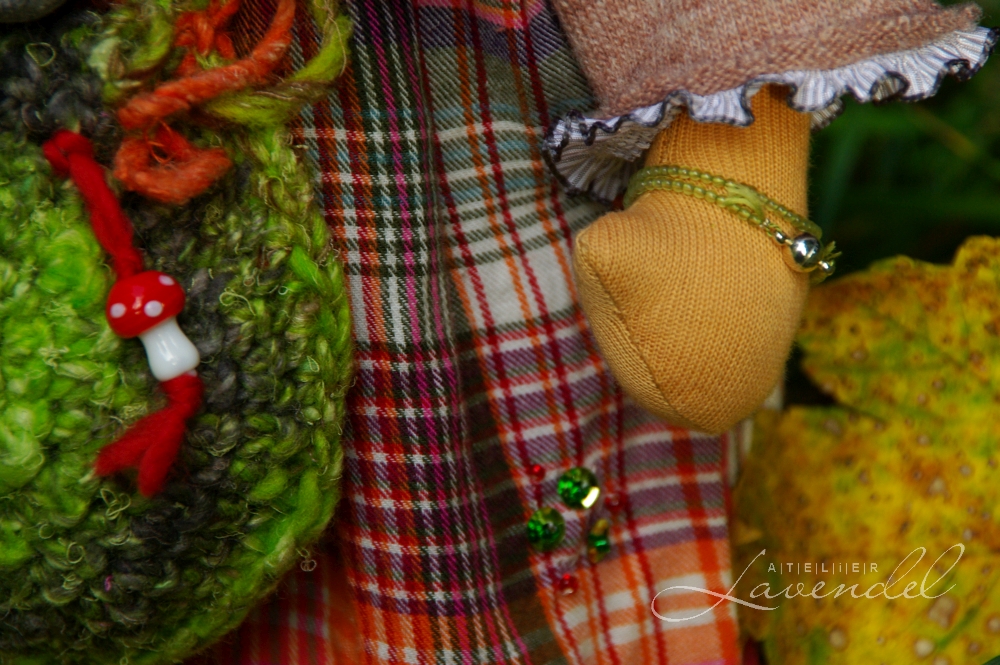 Margit´s little friend´s name is Bene. Bene´s clothing is made with cotton velour, he can happily put off his cowl, made with plant dyed wool. A tiny silver bell is safely fastened on its top. His tiny airy blanket is amazingly light. It is made with moss green mohair on a silk thread. His cosy carry bag, where he is sitting  is crochet of gorgeous wool/mohair/silk blend. The texture of this pouch carry is so rich, I tried not to add to much, I left it free of every influence, just pure joy for the fingers to touch and for the eyes to look at.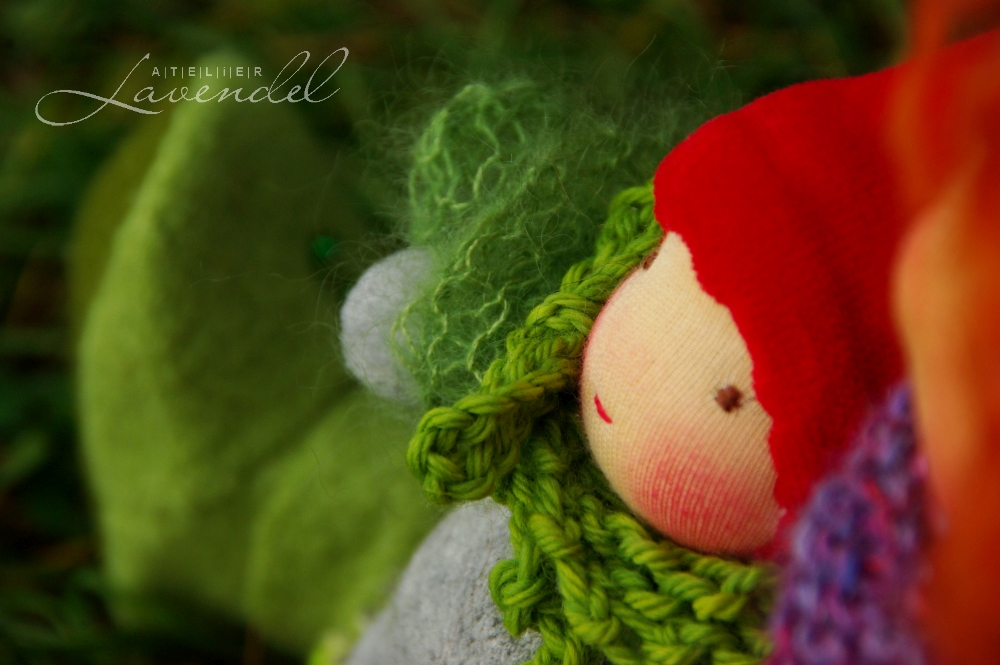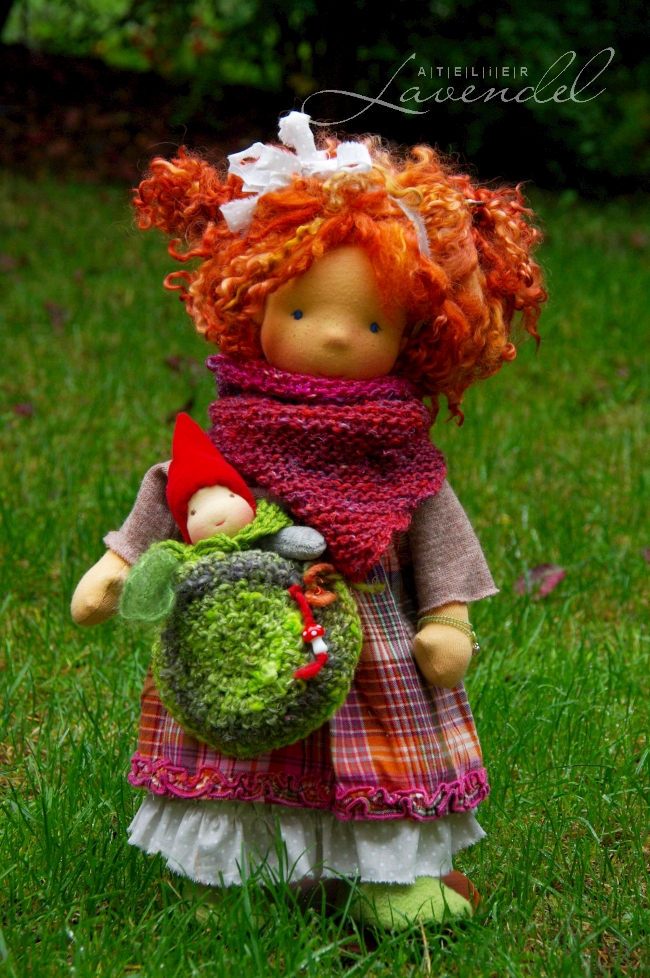 Margit and Bene are now available here .
♥♥♥