Some sweet details here for you!
I have hand embroi­dered this tiny mush­room with cot­ton floss.
It is dec­o­rat­ing the woollen jack­et of Peg­gy.
Is it not sweet? : ) It is just about an inch tall.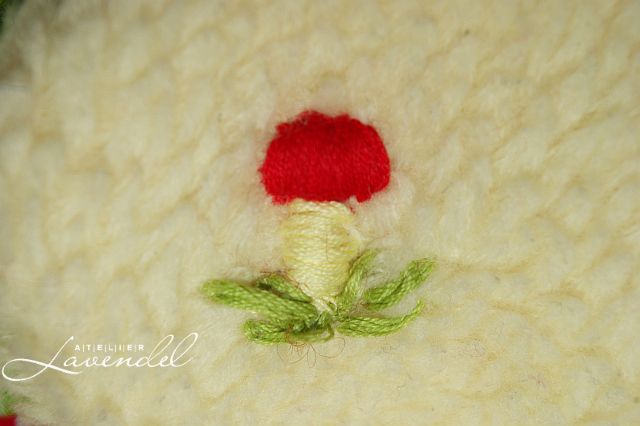 Yes, these are Peggy´s new socks. And her new shoes as well. I made them with high qual­i­ty wool felt, organ­ic cot­ton jer­sey and a bit organ­za. Well, her legs are there also.
Do you think, Peg­gy might be a fairy?
Actu­al­ly, Peg­gy is wood­land girl. A bit wild. Fun­ny. Has a won­der­ful mane of long brown hair. She loves to dec­o­rate it with flow­ers, this one is her favorite. I have made it for her with my best silk fab­ric in the deep blue and gold­en dou­ble side vin­tage chech glass beads. Peg­gy adores to see them glit­ter­ing.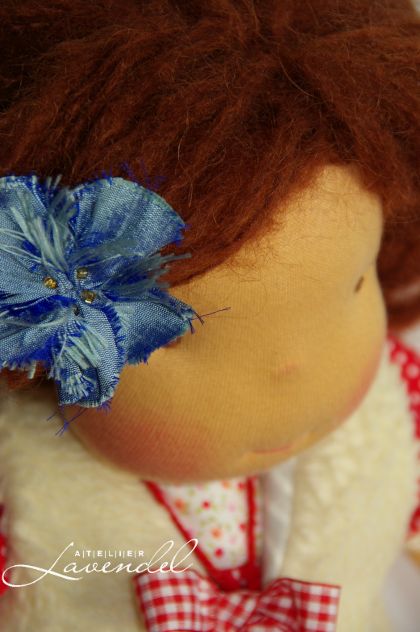 Ah, Peg­gy!… She does not want to go out with­out this charms bracelet bear­ing a tiny heart on it. It is bring­ing her luck, she sais.
Ah, Peg­gy is such a sweet per­son! I am already in love with her.
I shall show her the next day!
Have a nice week­end!
Yours, Ele­na