This is Lindy, a 18in (45cm) OOAK cloth doll by Ate­lier Laven­del. She is lov­ing­ly hand­made
by me using organ­ic high qual­i­ty mate­ri­als only.
Enjoy lots of tiny sweet details to be dis­cov­ered here and there!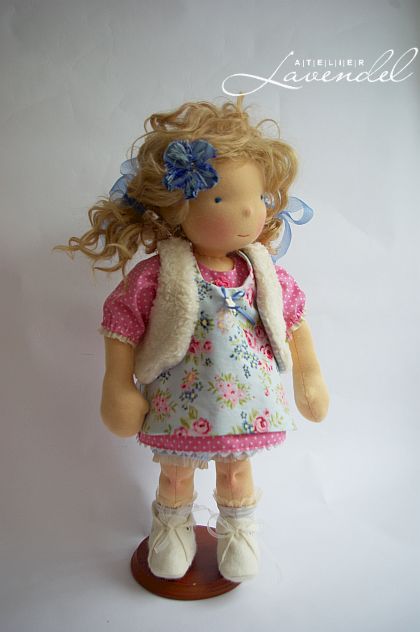 Look, here! : )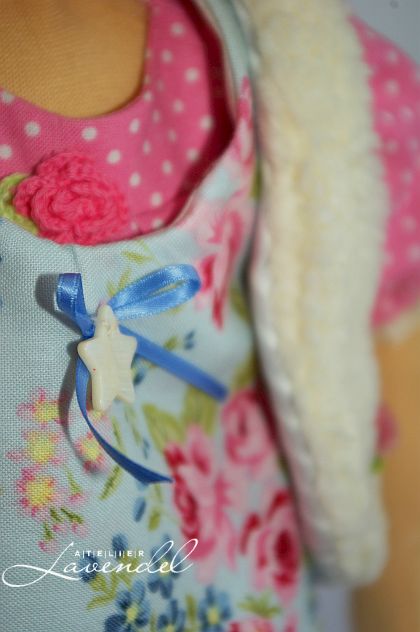 And there too ! : )
Lindy is wear­ing a pink pol­ka dot­ted cot­ton dress with a rick rack edge and white cot­ton jer­sey panties beneath (the last is not pic­tured). Her trousers are made with light blue linen fab­ric. My favorite is her reversible tunic. I have made it with nos­tal­gic flow­ered cot­ton fab­ric and dec­o­rat­ed with a tiny sea shell star on the one side. On the oth­er side it is made with soft and quite cot­ton fab­ric in crème with white pol­ka dots. The tunic is to close with a pair of sea shell but­tons in the shape of a daisy flower and hand­made loops. The cosy jack­et of white organ­ic cot­ton fur is lined with organ­ic cot­ton jer­sey. I have dec­o­rat­ed it with a hand felt­ed tiny rose bud. Lindy's off-white scarf and her shoes are of pure high qual­i­ty wool fleece. The deep blue flower in her hair is a safe­ty hair­clip, made organ­ic with silk and gold­en glass beads in the mid­dle. It can be put off. Dolls out­fit is com­plet­ed with a pink cro­cheted hair band, made with plant dyed wool and a pair of organ­za hair-bands for her sweet pig­tails.
All her clothes are remov­able and wash­able. This doll has blue eyes, which are care­ful­ly hand embroi­dered. Her long locks are of yak hair. This doll has ears, sculp­tured knees and elbows, a bel­ly but­ton and a sweet bum. Lindy is stuffed very firm­ly with organ­ic sheep wool. She has flop­py limbs and is free pose-able. Lindy is now awail­able here and here.