This is Jen­ny, a 18in (46cm) OOAK cloth doll by Ate­lier Laven­del.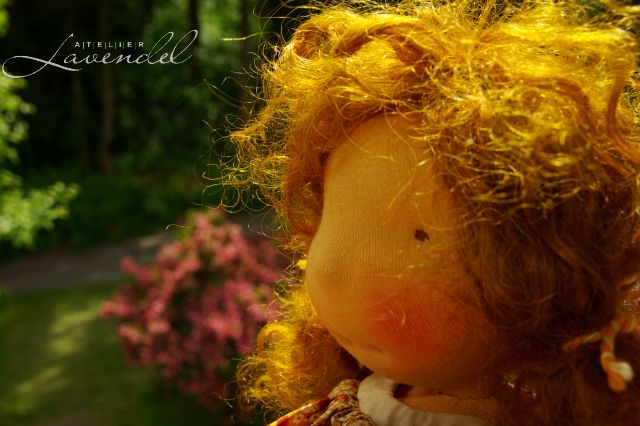 Jen­ny is designed and hand­made by me using organ­ic high qual­i­ty mate­ri­als only.
Jen­ny is wear­ing a Lib­er­ty of Lon­don cot­ton dress with organ­za edge and white cot­ton jer­sey panties beneath (the last is not pic­tured). Her short trousers are made with leaf green linen fab­ric. Her tunic is made with pure high qual­i­ty wool fleece and dec­o­rat­ed with a cro­chet spring flower, on the oth­er side is a "My Darling/ mein Schatz" lable to be seen. The tunic is to close with a pair of sea shell but­tons in the shape of a daisy flower. Her booties are of pure high qual­i­ty wool fleece, her socks of organ­ic cot­ton jer­sey. Dolls out­fit is com­plet­ed with red silk scarf and a knit­ted hat made of pure new wool. All her clothes are remov­able and wash­able.
Jen­ny is made to be a com­pan­ion and a true play mate with­in a free imag­i­na­tive play.
She is now avail­able here.