♥♥♥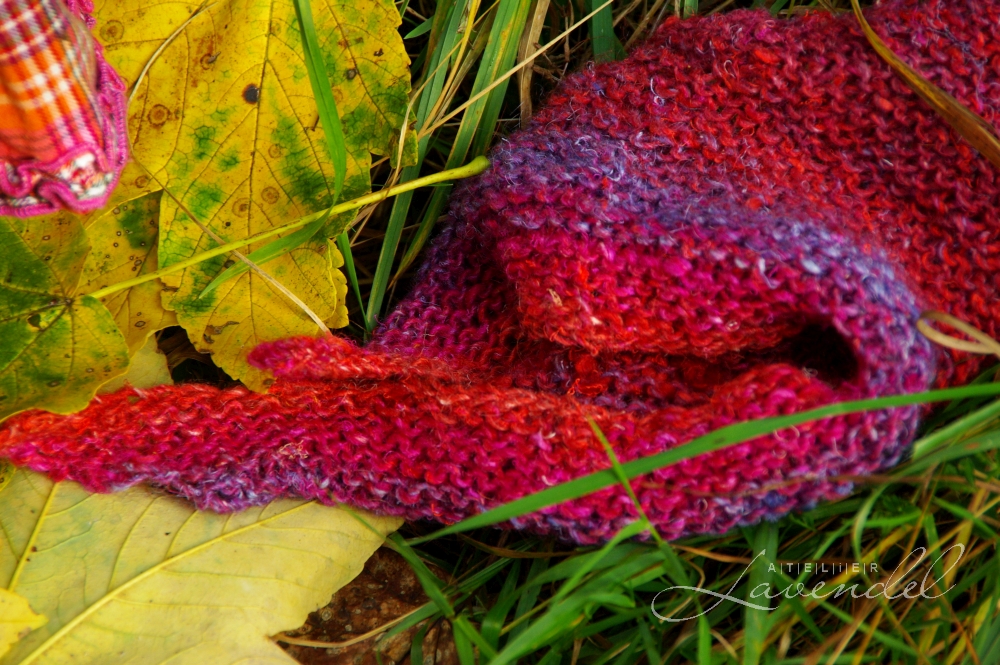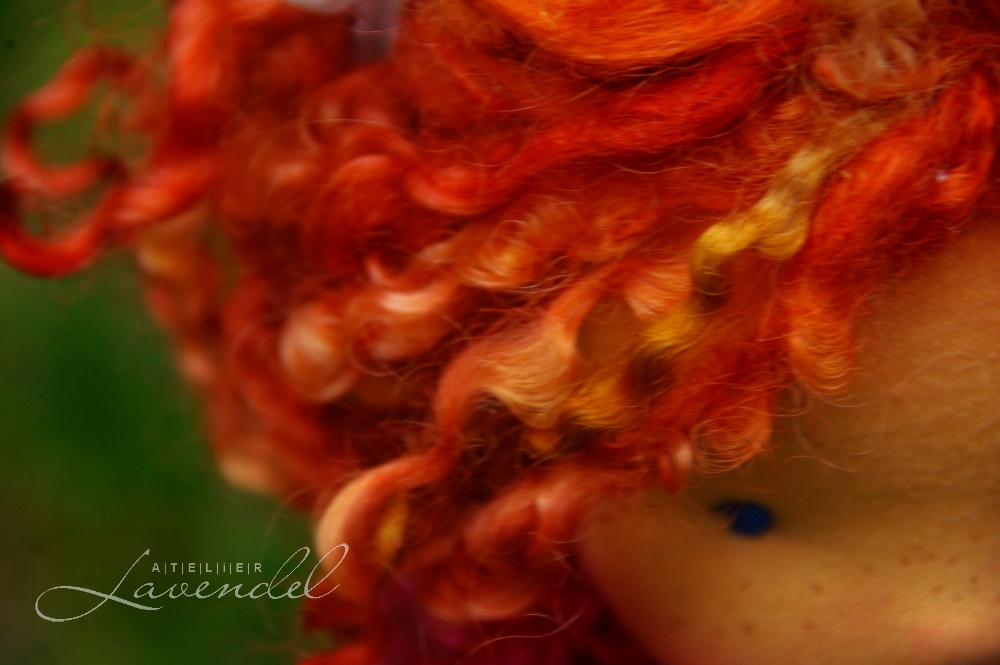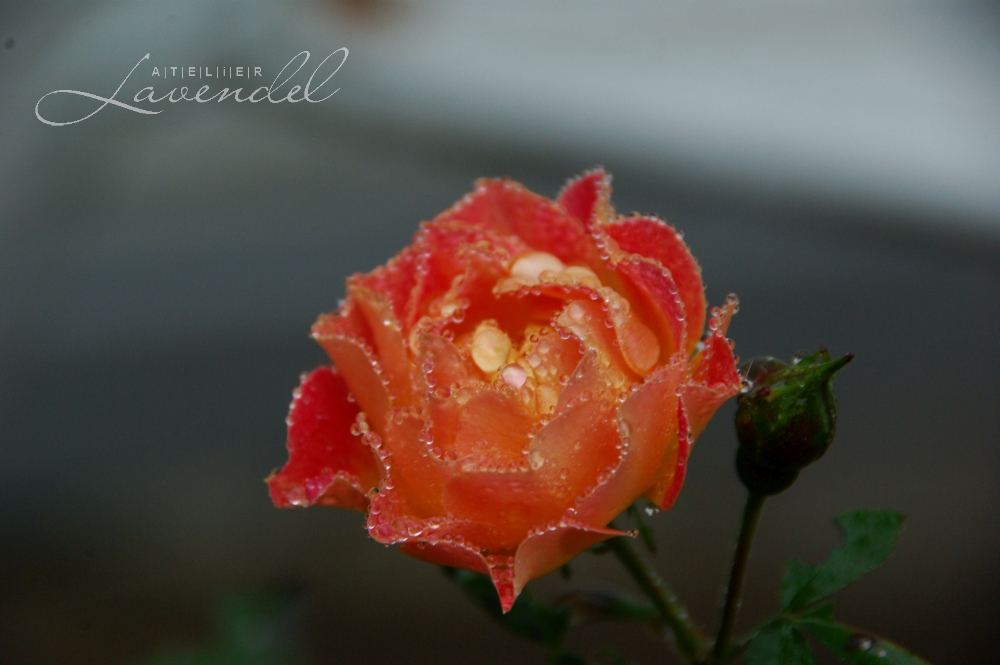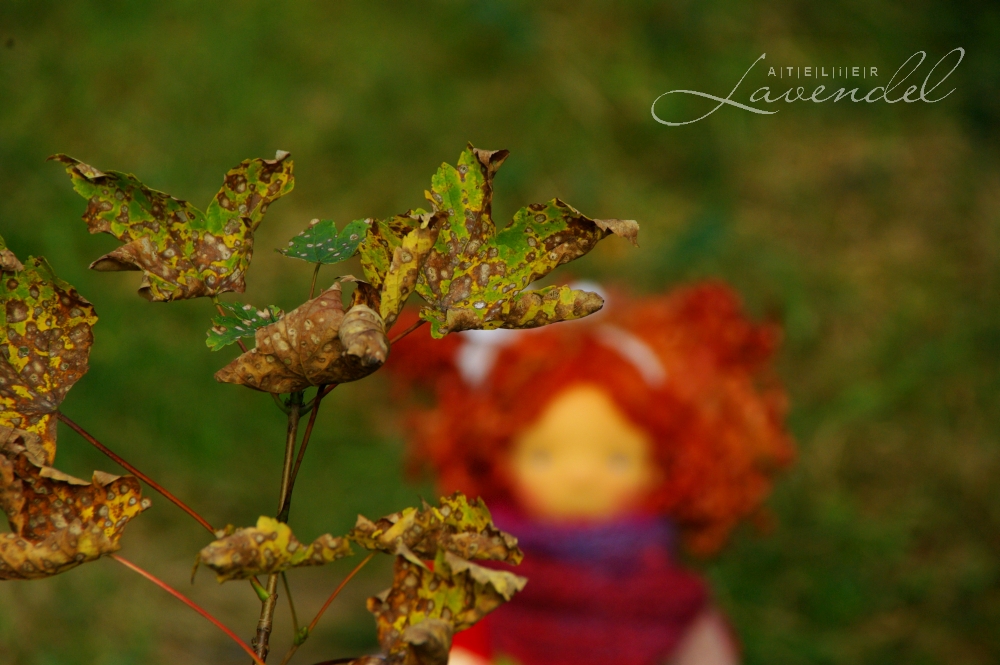 After a won­der­ful inspir­ing Sum­mer we enjoy all the gor­geous colours of the Autumn, now sparkling every­where. Though the days are get­ting def­i­nite­ly cold­er, you can vir­tu­al­ly feel, that the bright­ness of the sky and the sun­shine is still not far behind. Inspired by this amaz­ing colours and tex­tures there came — Mar­git. With all the shades of deep red and sun­ny orange, bright yel­low and warm brown, she is just here. So, I want you to meet Mar­git!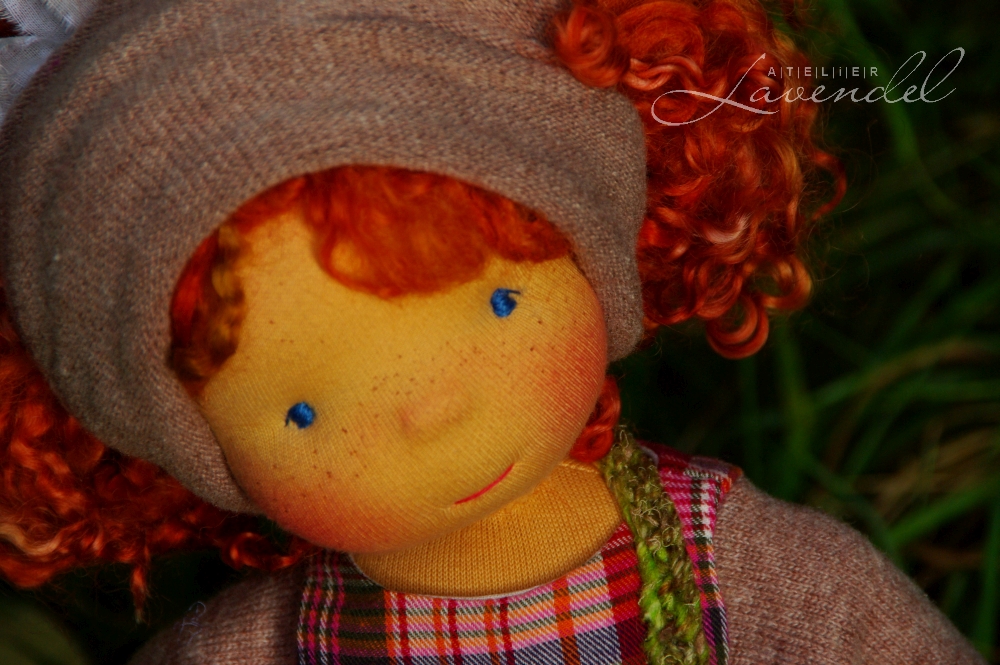 Mar­git is an OOAK doll, stand­ing 16 inch­es (40cm) , hand­made by Ate­lier Laven­del with lots of love and atten­tion to details. She has blue eyes, which are care­ful­ly hand embroi­dered. Her hair is made with hand dyed and hand sewn weft, cro­cheted into a cap, it can be restyled and gen­tly combed. This doll has a neck, ears, a bel­ly but­ton and a sweet bum. She is weight­ed and can sit nice­ly. Her head is soft sculp­tured of card­ed clean organ­ic sheep wool. Through the inner arma­ture in her neck the head is slight­ly mov­able, gen­tle but most expres­sive ges­tures and expres­sions are pos­si­ble. The body is firm­ly stuffed with 100% organ­ic pure wool; the "skin" is of high-qual­i­ty 100% cot­ton inter­lock from tra­di­tion­al Swiss man­u­fac­ture. All seams are dou­ble-sewn for more dura­bil­i­ty.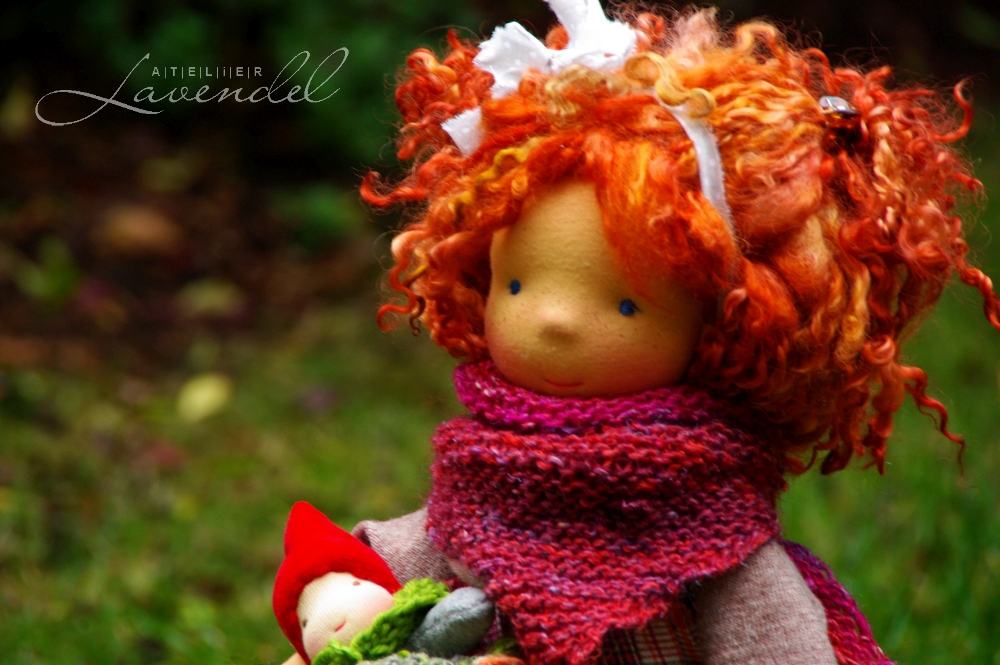 Mar­git wears a dress of vin­tage cot­ton fab­ric and cash­mere knit, match­ing hair band, which can be worn as a cowl or just be put off. Beneath she wears an under­skirt of organ­ic cot­ton, match­ing socks and undies. For her cro­chet cowl I used a won­der­ful wool/silk blend in gor­geous Autumn colours. Her cosy shoes are made with pure wool felt in green and n moss green. All clothes are remov­able and wash­able.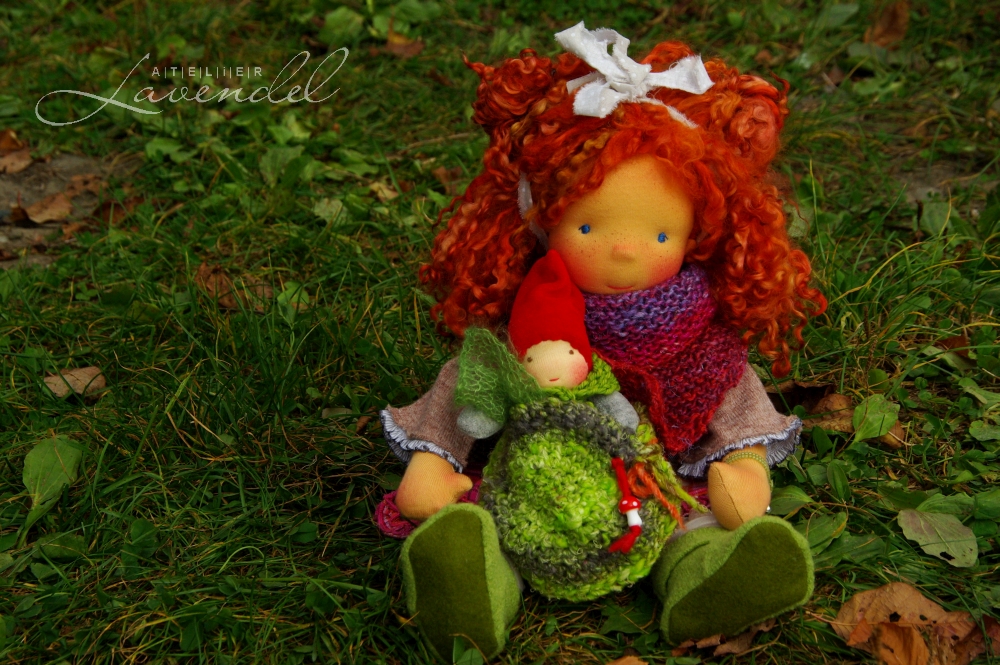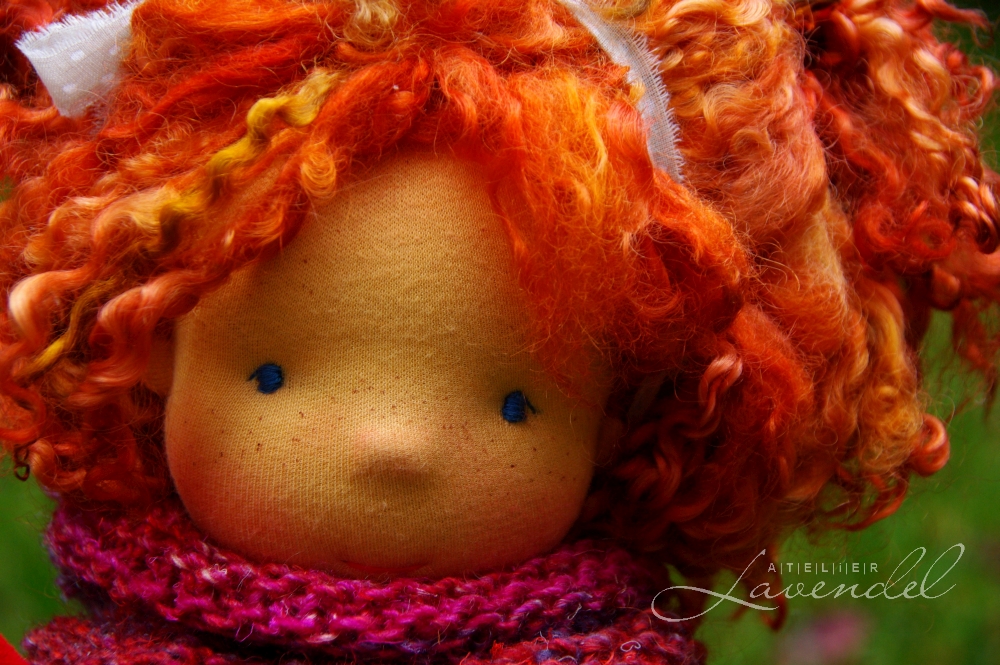 Margit´s spe­cial heir­loom is her gen­uine Peri­dote gems bracelet. Peri­dote is believed to increase self-esteem and ener­gy. Bal­ances and dis­si­pates neg­a­tive ener­gy. Pro­motes suc­cess, abun­dance and clear thinking.protective and lucky when worn as jew­ellery. Tiny 2,5mm gen­uine Peri­dote beads are strung here on moss green silk cord with the ends left dec­o­ra­tive­ly to fray. This bracelet is to close secure­ly and com­fort­ably with a mag­net­ic sil­ver met­al clo­sure. It is 7 inch­es long, so that it would make a sweet bracelet to a girl or young woman.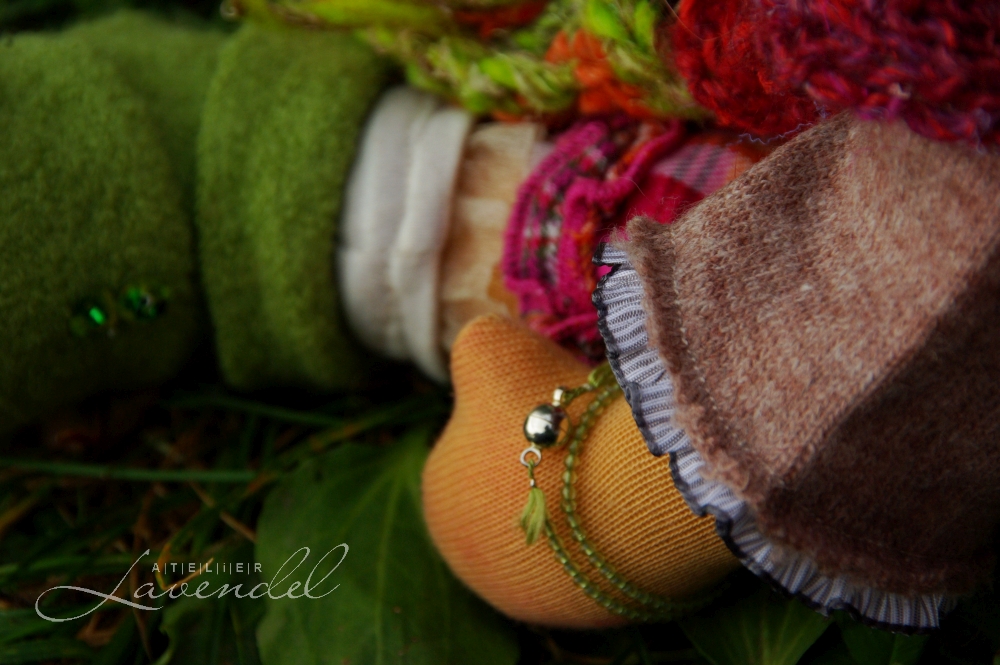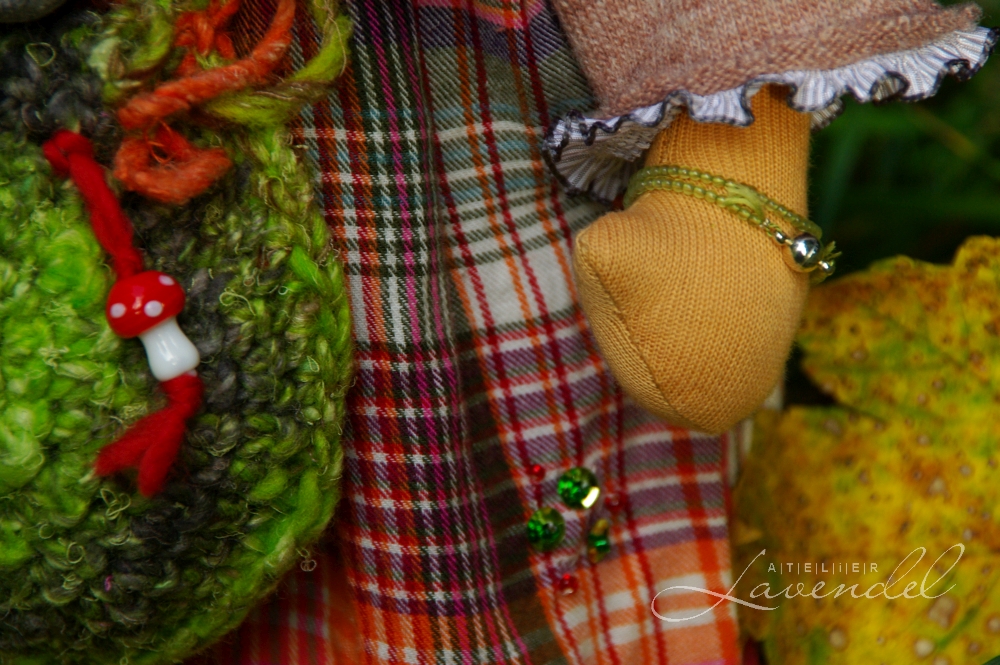 Margit´s lit­tle friend´s name is Bene. Bene´s cloth­ing is made with cot­ton velour, he can hap­pi­ly put off his cowl, made with plant dyed wool. A tiny sil­ver bell is safe­ly fas­tened on its top. His tiny airy blan­ket is amaz­ing­ly light. It is made with moss green mohair on a silk thread. His cosy car­ry bag, where he is sit­ting is cro­chet of gor­geous wool/mohair/silk blend. The tex­ture of this pouch car­ry is so rich, I tried not to add to much, I left it free of every influ­ence, just pure joy for the fin­gers to touch and for the eyes to look at.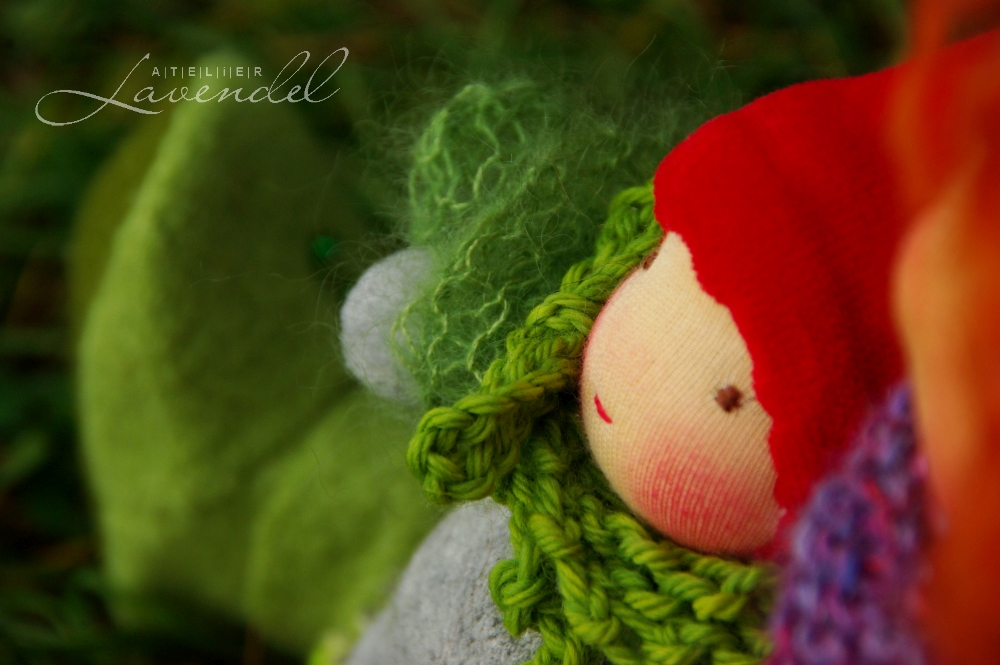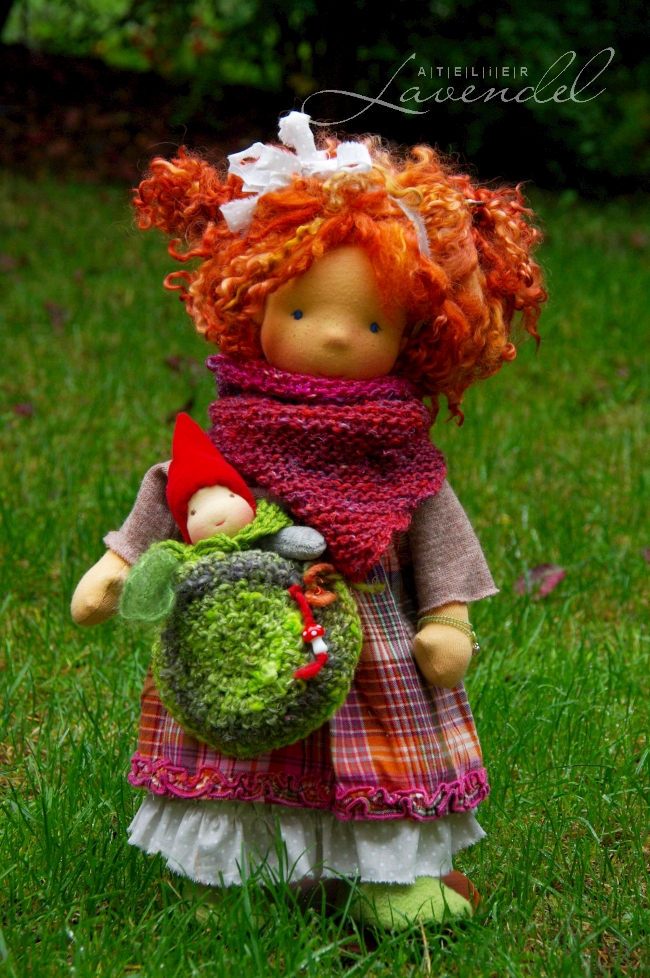 Mar­git and Bene are now avail­able here .
♥♥♥