Autumn colours inspired…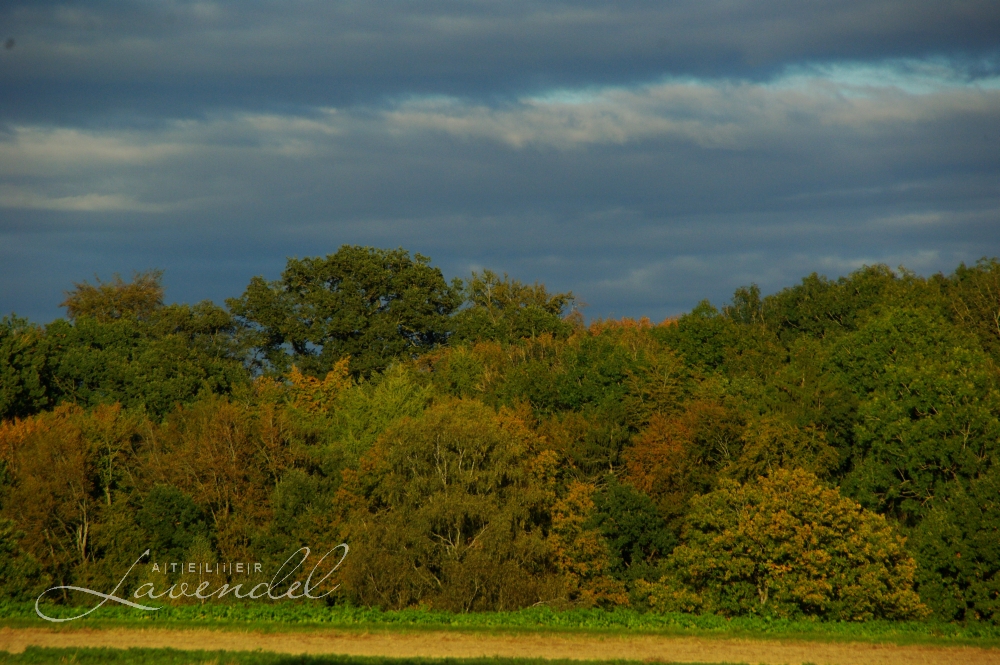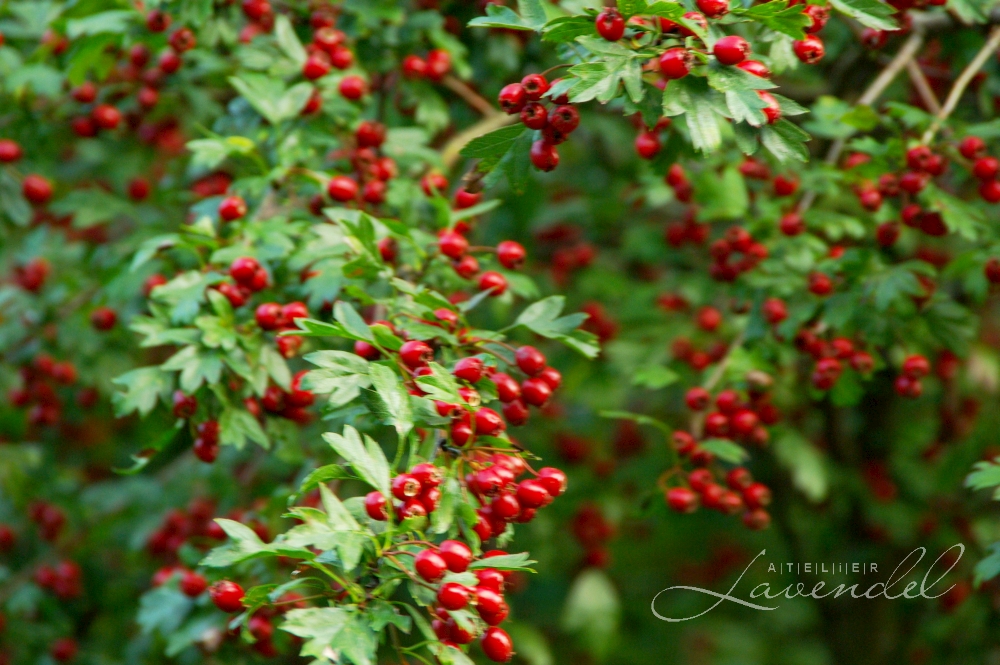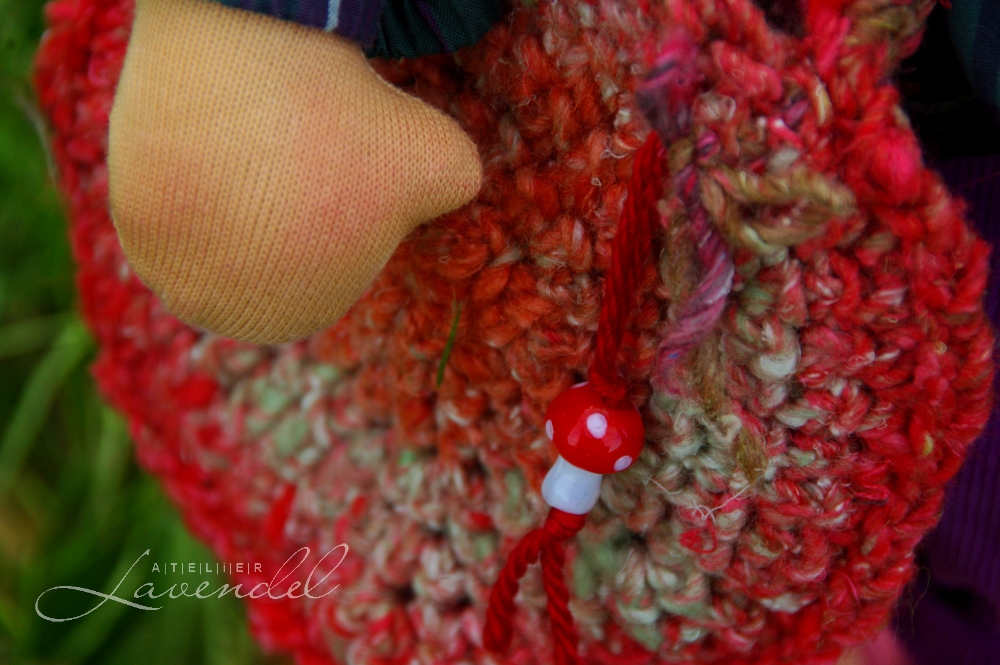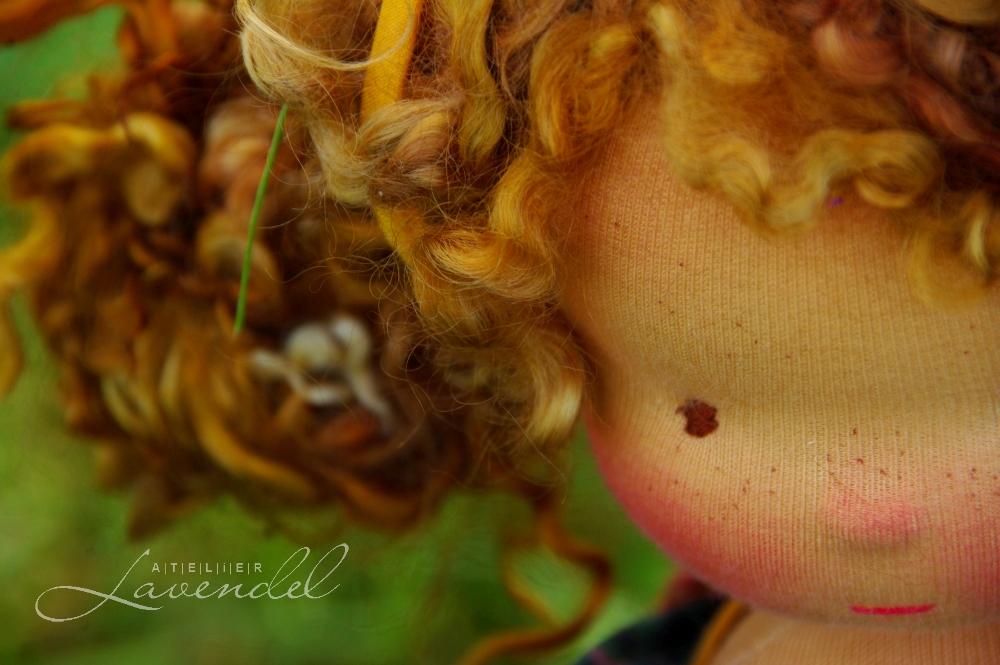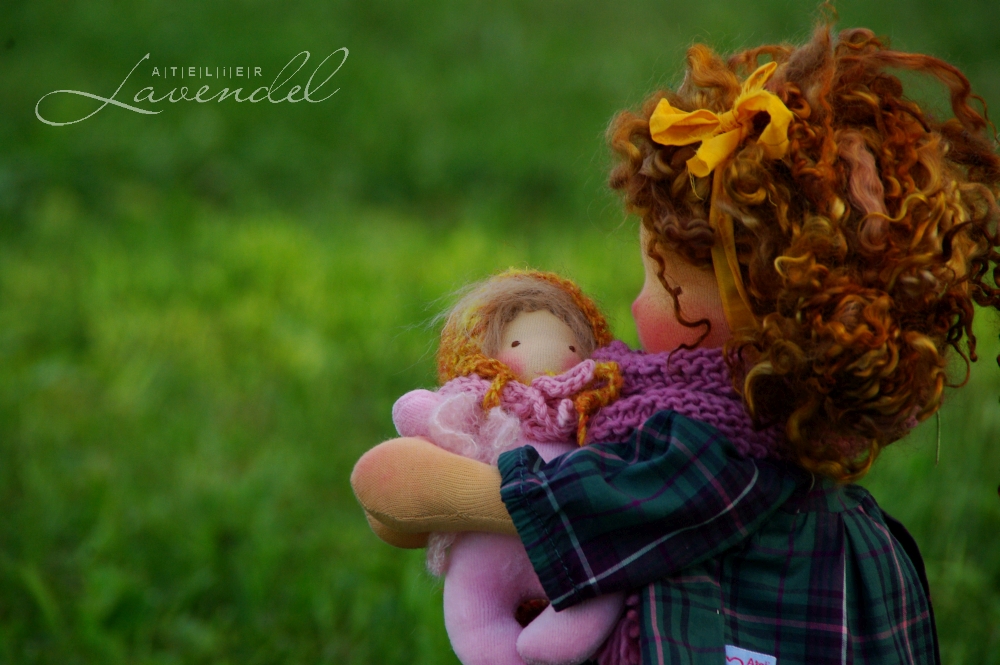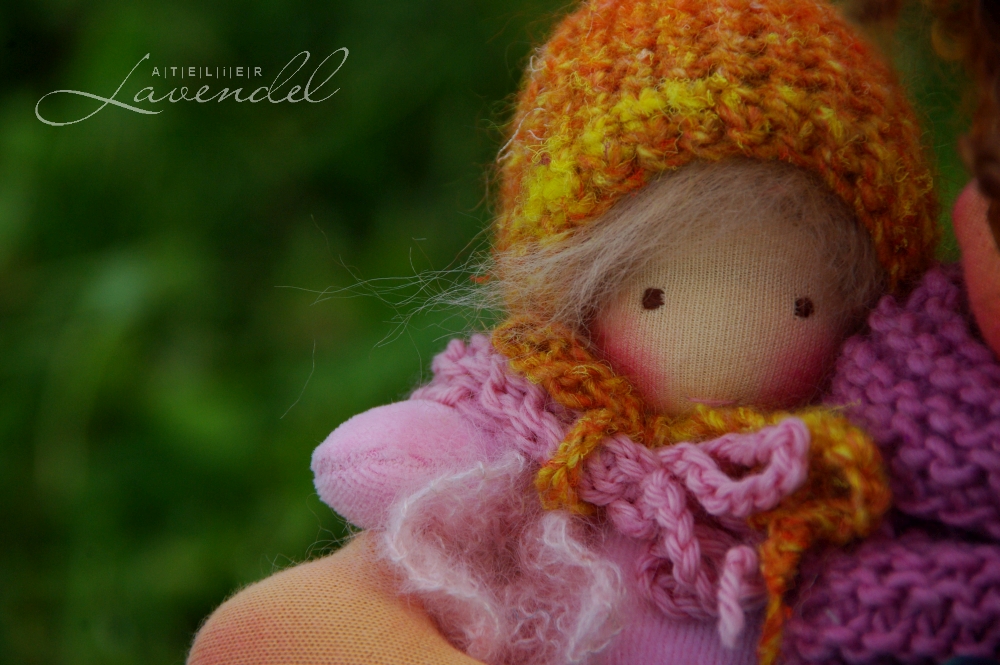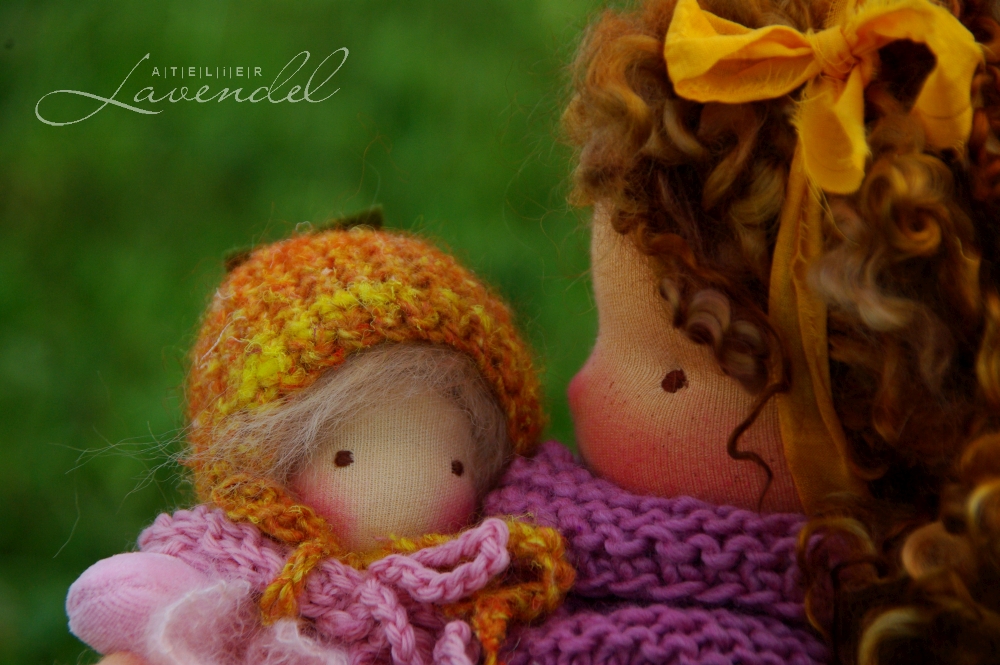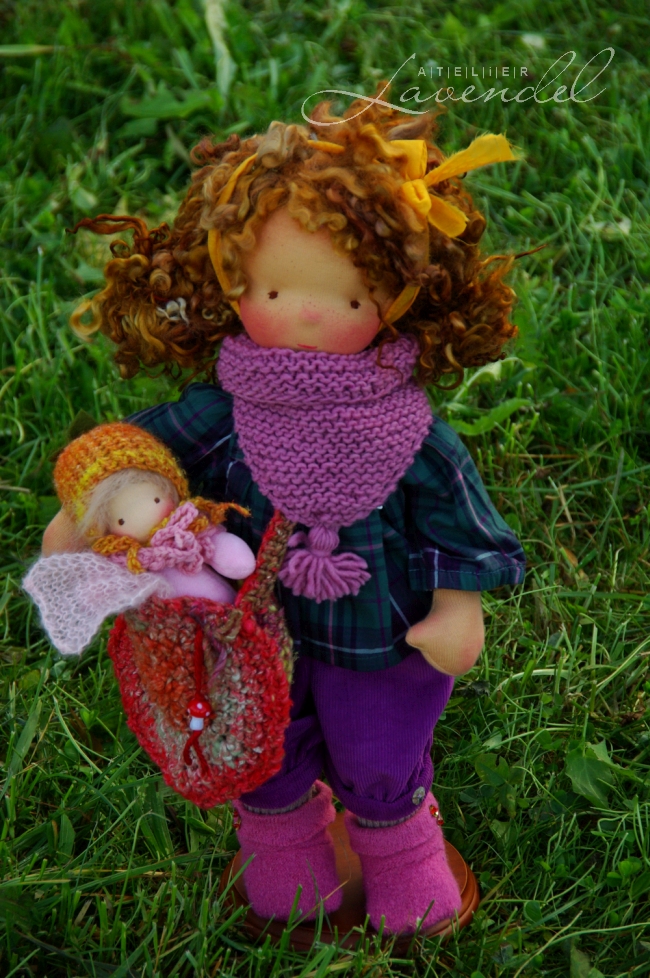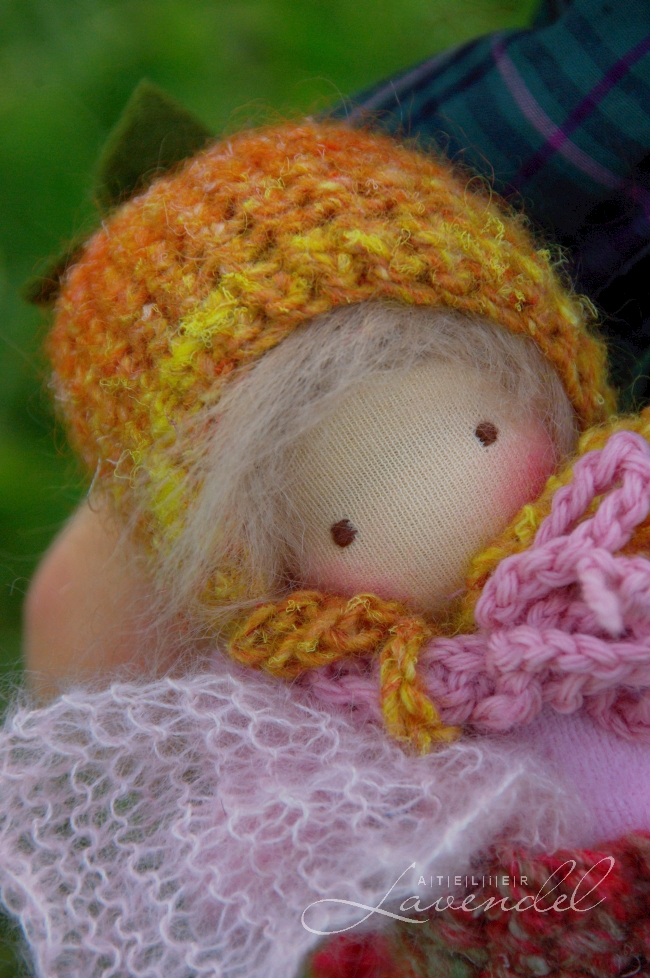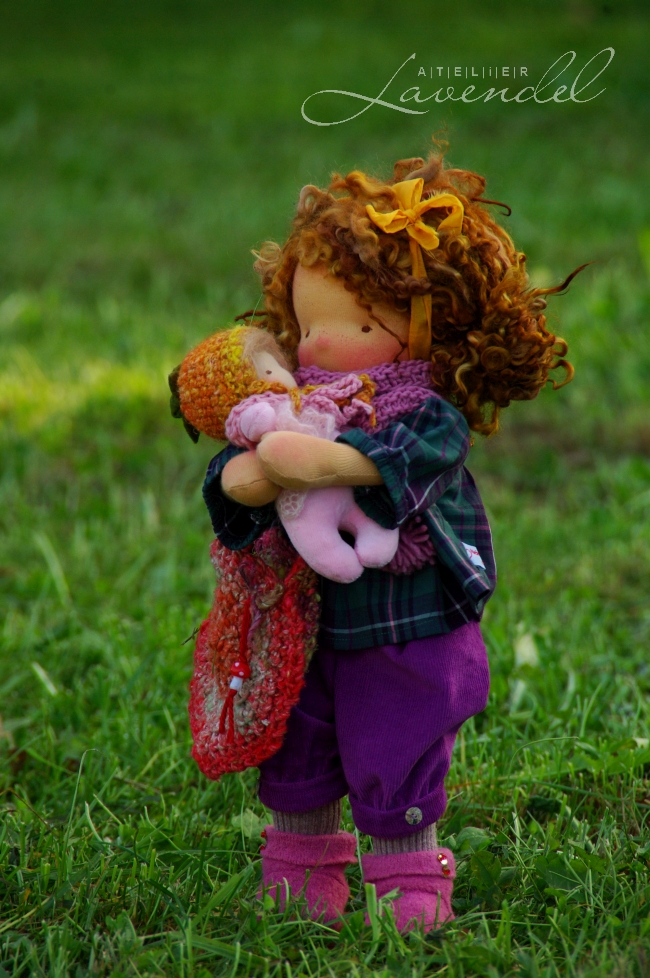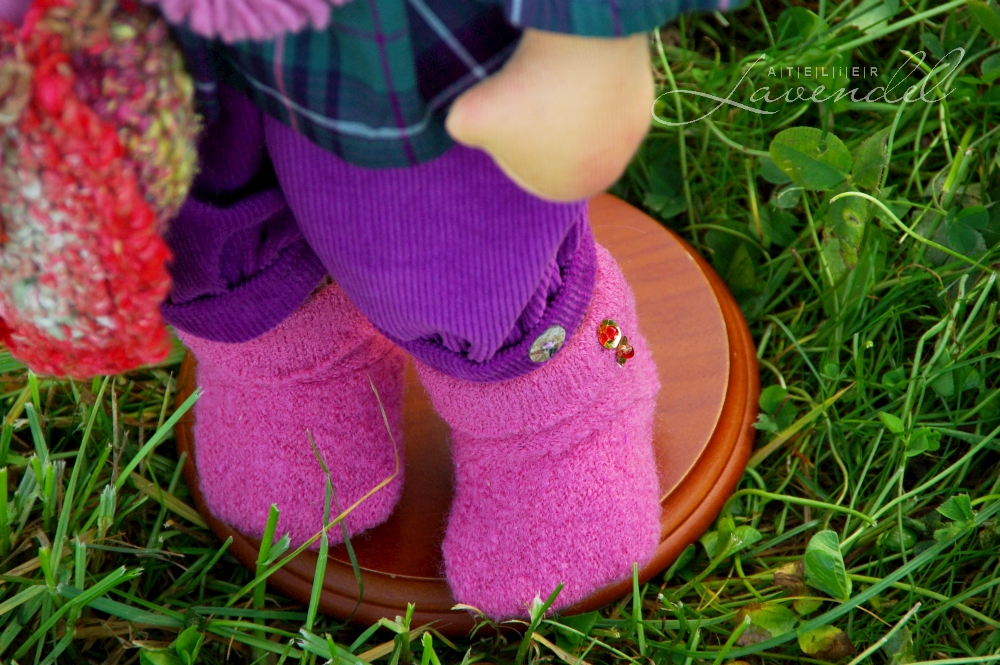 I want you to meet Cleo and Moni. Cleo is an OOAK doll, stand­ing 16 inch­es (40cm) , hand­made by Ate­lier Laven­del with lots of love and atten­tion to details. Moni is her lit­tle friend.
Cleo wears a blouse of vin­tage cot­ton fab­ric to fas­ten with two hand­made waxed wood but­tons and hand made loops. Beneath she wears knicker­bock­ers of cot­ton vel­vet, leg­warm­ers of up-cycled cash­mere knit and undies. For her cro­chet cowl with a tas­sel on the top I used won­der­ful plant dyed wool yarn. Her cosy shoes are made with pure wool felt in fuch­sia and grey.
Cleo has brown eyes, which are care­ful­ly hand embroi­dered. Her hair is made with hand dyed and hand sewn weft, cro­cheted into a cap, it can be restyled and gen­tly combed. This doll has a neck, ears, a bel­ly but­ton and a sweet bum. She is weight­ed and can sit nice­ly. Her head is soft sculp­tured of card­ed clean organ­ic sheep wool. Through the inner arma­ture in her neck the head is slight­ly mov­able, gen­tle but most expres­sive ges­tures and expres­sions are pos­si­ble. The body is firm­ly stuffed with 100% organ­ic pure wool; the "skin" is of high-qual­i­ty 100% cot­ton inter­lock from tra­di­tion­al Swiss man­u­fac­ture. All seams are dou­ble-sewn for more dura­bil­i­ty. All Cleo´s clothes are remov­able and wash­able.
Lit­tle Moni stands just 4 inch­es of sweet­ness. She has brown eyes and hair of Dol­ly­Mo mohair, which can be restyled and fin­ger combed. Moni´s cloth­ing is made with cot­ton velour, she can hap­pi­ly put off his cowl and his bon­net with a wool felt leaf on the top, both is made with plant dyed wool. Her tiny airy blan­ket is amaz­ing­ly light. It is made with rose mohair on silk thread. Her cosy car­ry bag, where she is sit­ting, is cro­chet of gor­geous wool/mohair/silk blend. The tex­ture of this pouch is so rich, I tried not to add too much, it is just pure joy for the fin­gers to touch and for the eyes to look at.
Cleo and Moni are now avail­able here .
♥♥♥