Meet Peg­gy! A sweet gnome girl, an 18in OOAK doll by Ate­lier Laven­del.
She comes with 10 sweet pieces of cloth­ing and acces­so­ry.
So, where shall I start? Her wide and long red pol­ka dot­ted cot­ton dress is per­fect for play­ing in the woods. Lit­tle folk loves shiny colours, they say. Her dress is dec­o­rat­ed with fine cot­ton lace, match­ing panties as well. On her green pinafore is always tin­kling a tiny sil­ver bell. Her woollen jack­et is very spe­cial. An enchant­ed friend, the Lucky Mush­room, is sleep­ing on it. One would say, it is embroi­dered. But we know. ; ) By the way, the jack­et has a hand­made loop and a sea shell but­ton in the shape of a flower as a clo­sure. It is lined with organ­ic cot­ton jer­sey.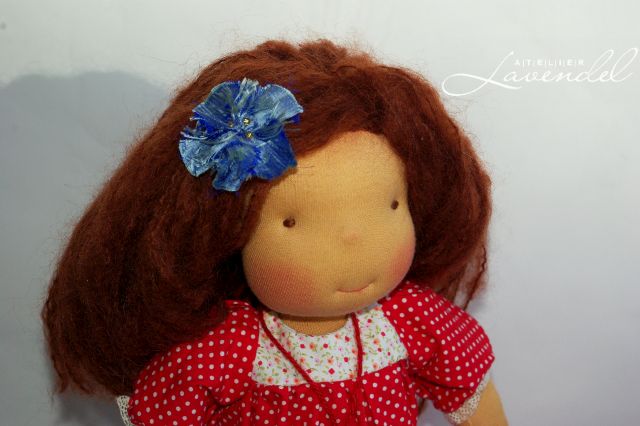 Oh, yes. Her jew­er­l­ley. It is a lam­p­work neck­lace, her red bracelet and her hair-pin, of course. Her point­ed hat is made with cot­ton vel­vet, the round tas­sel on it is silk/wool blend.
Peg­gy has ears, a bel­ly but­ton, sweet bum, sculp­tured knees and elbows, she can sit free.
And here she is, look­ing for a new home. Avail­able here and here.