Here is lit­tle Matz. This 7 inch/18cm lit­tle Wal­dorf Inspired baby boy doll
is designed and hand­made by my with nat­ur­al best qual­i­ty pos­si­ble mate­ri­als and lots, lots of love and care. I used mohair locks for his won­der­ful baby hair (on the oth­er­weise bold and oh so mis­chevieu­os head), organ­ic cott­ton jer­sey and soft organ­ic cot­ton vel­vet for the cloth­ing, organ­ic sheep wool for stuff­ing and Swiss made doll mak­ing cot­ton tri­cot for the face. I love gor­geous struc­ture of his hat — that is made of wool, silk and a bit mohair in dusty shades of brown and deep blue. This baby loves it, to put them off and back again! I have care­ful­ly hand embroi­dered his face. It has a fair skin tone.
I have soft sculp­tured the tiny head in the tra­di­tion­al Wal­dorf style of Euro­pean doll mak­ing using card­ed organ­ic sheep wool. His cot­ton cloth­ing vel­vet can not be put off.
More cud­dle baby dolls by Ate­lier Laven­del are avail­able here.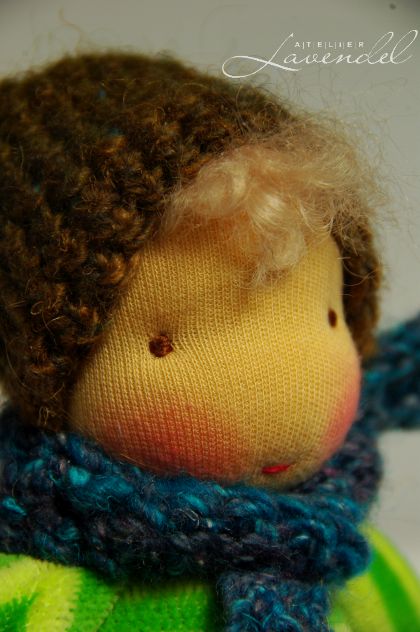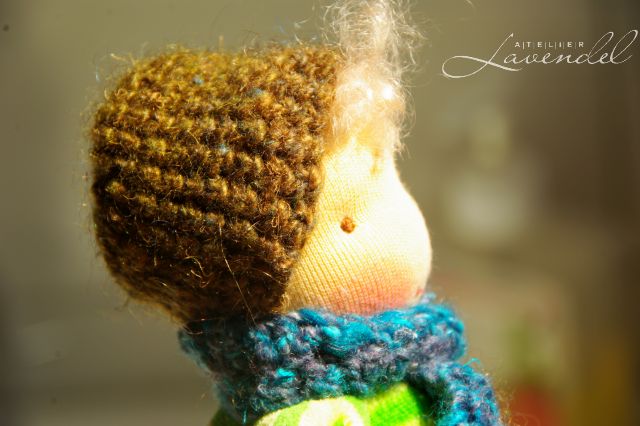 ♥♥♥