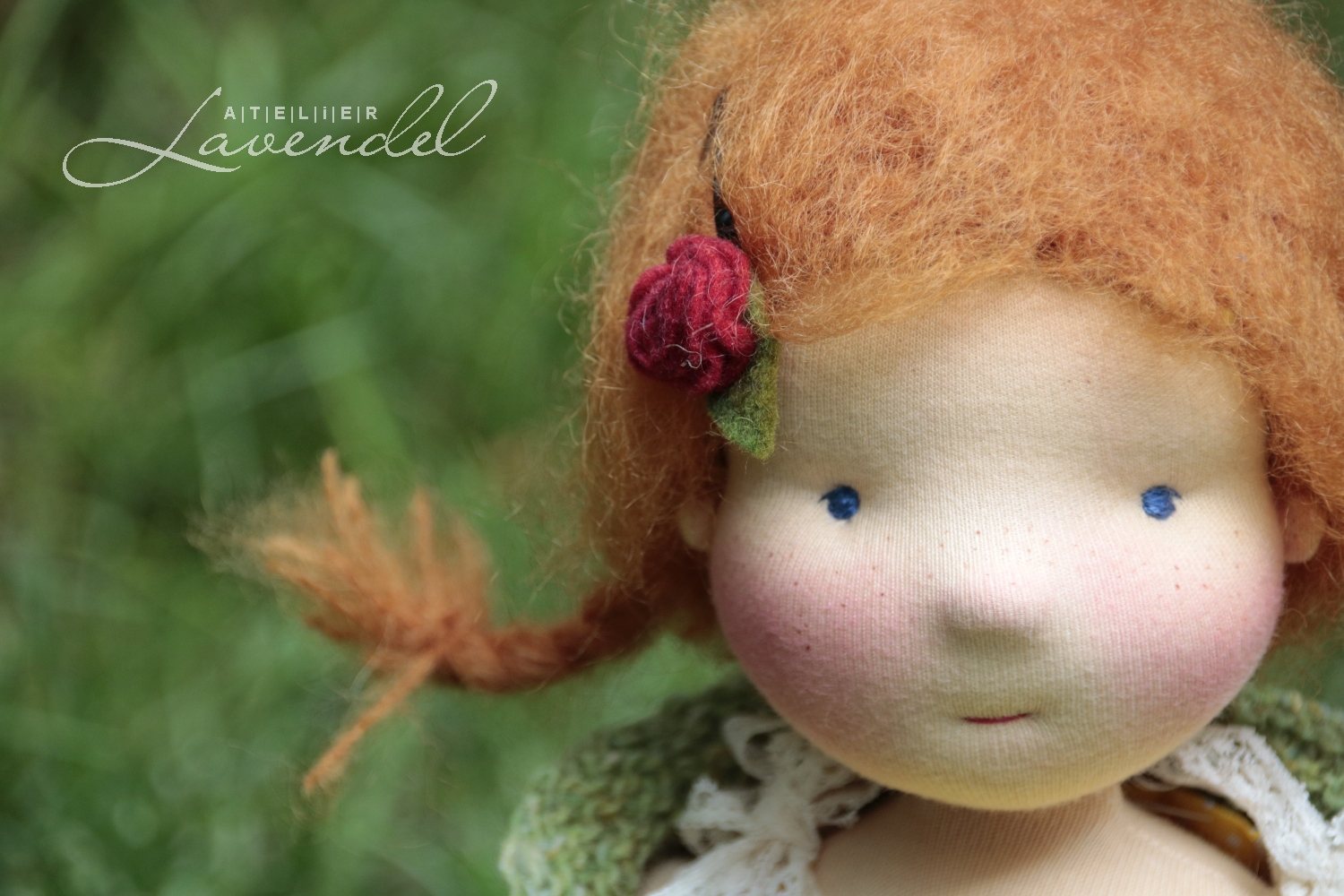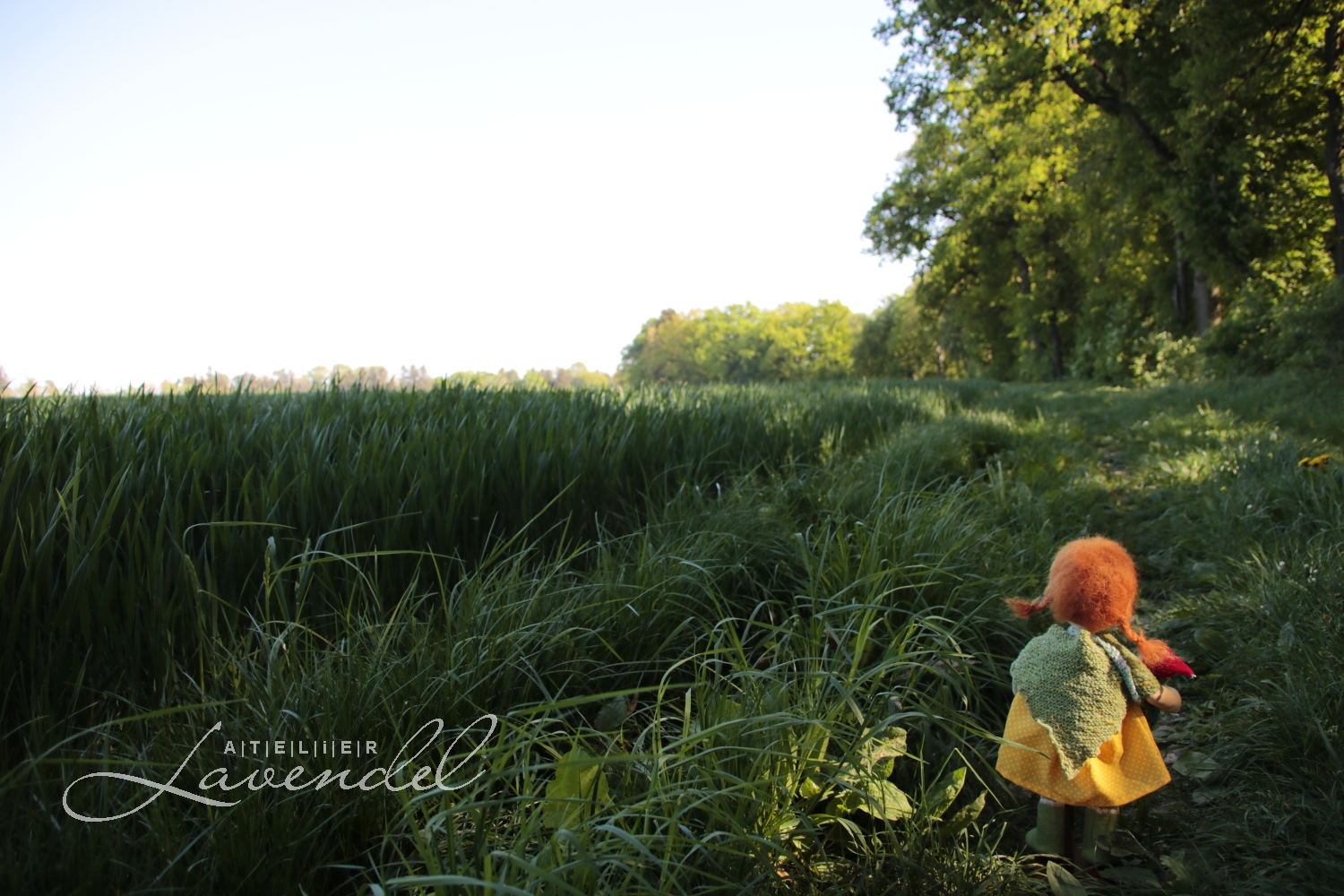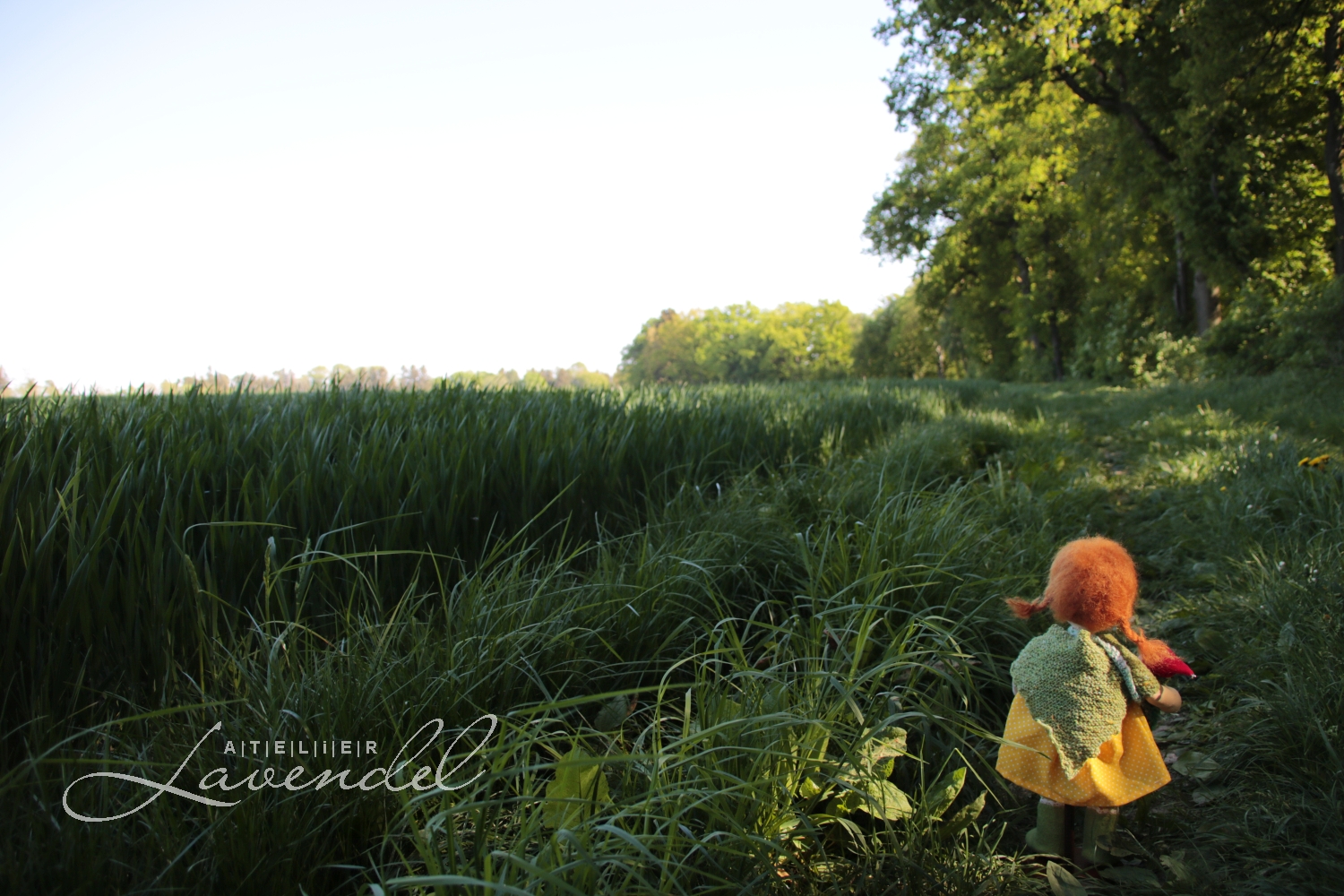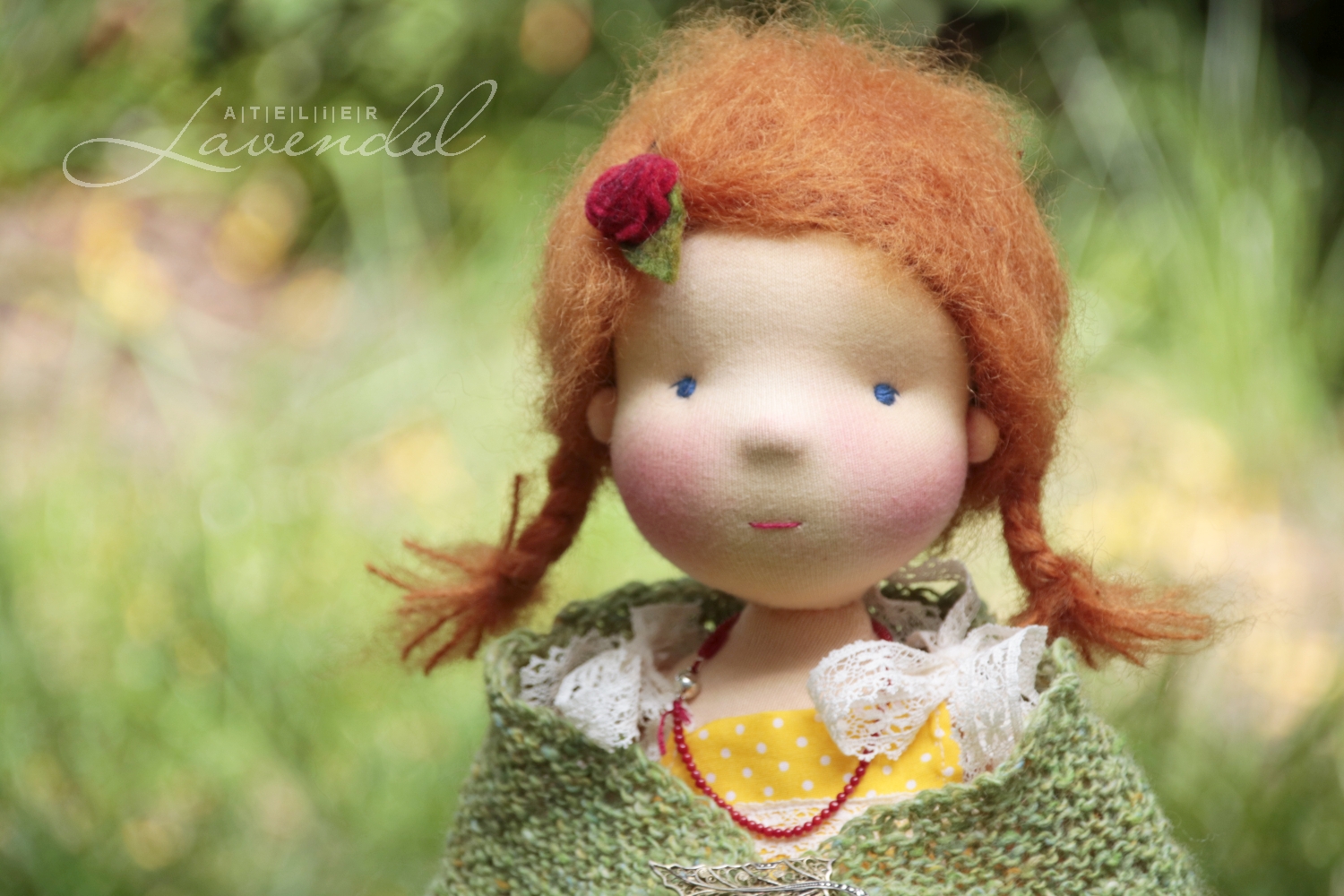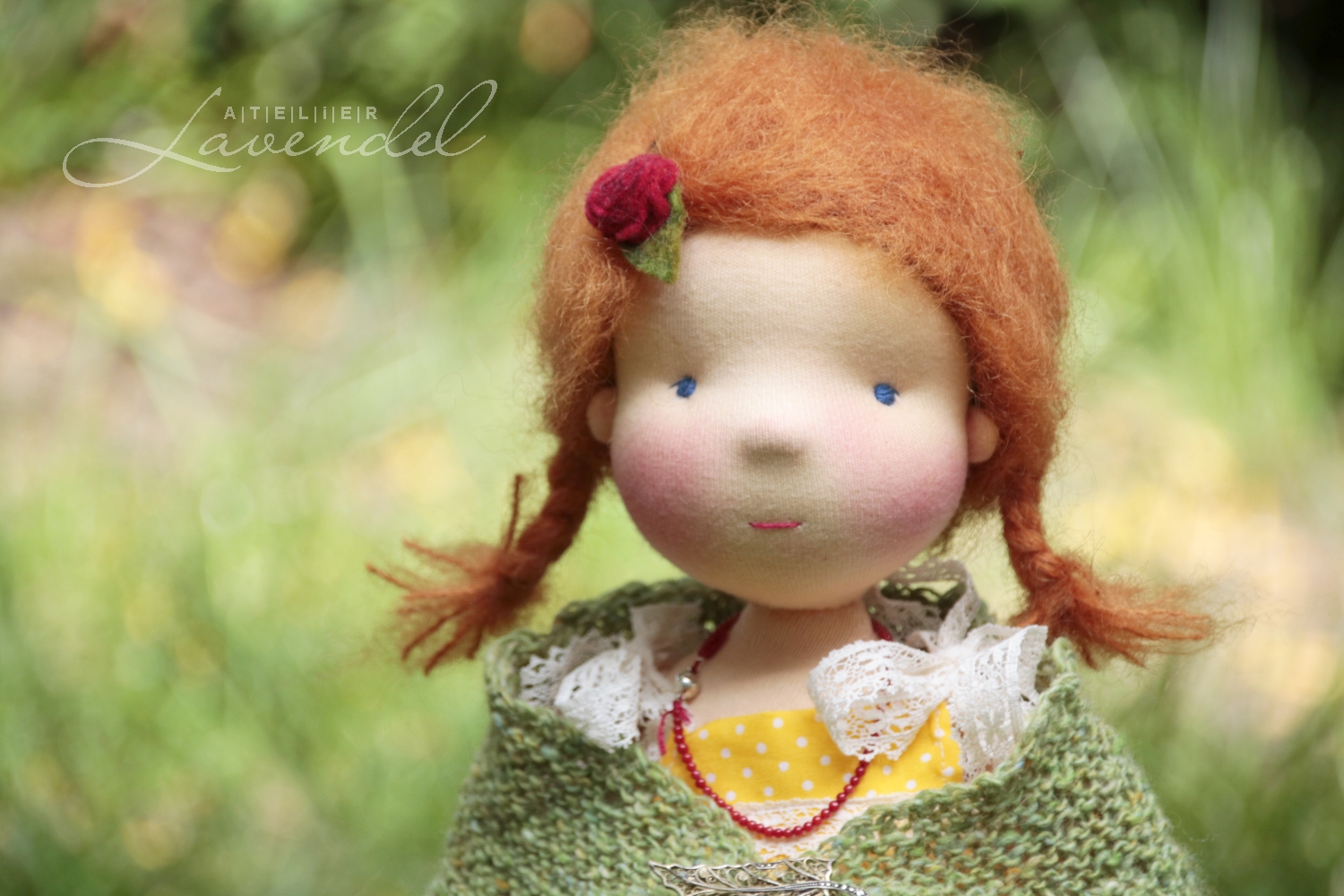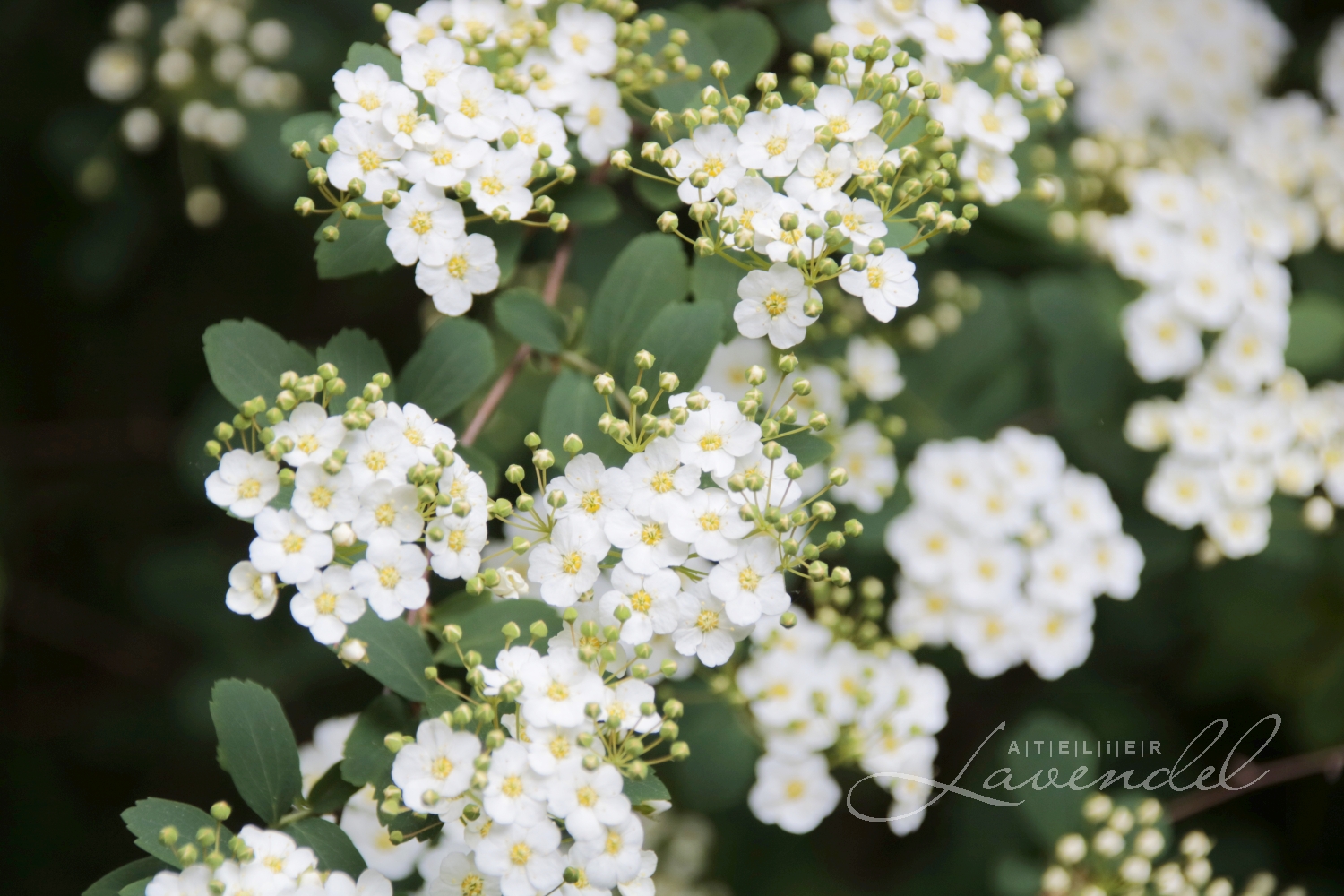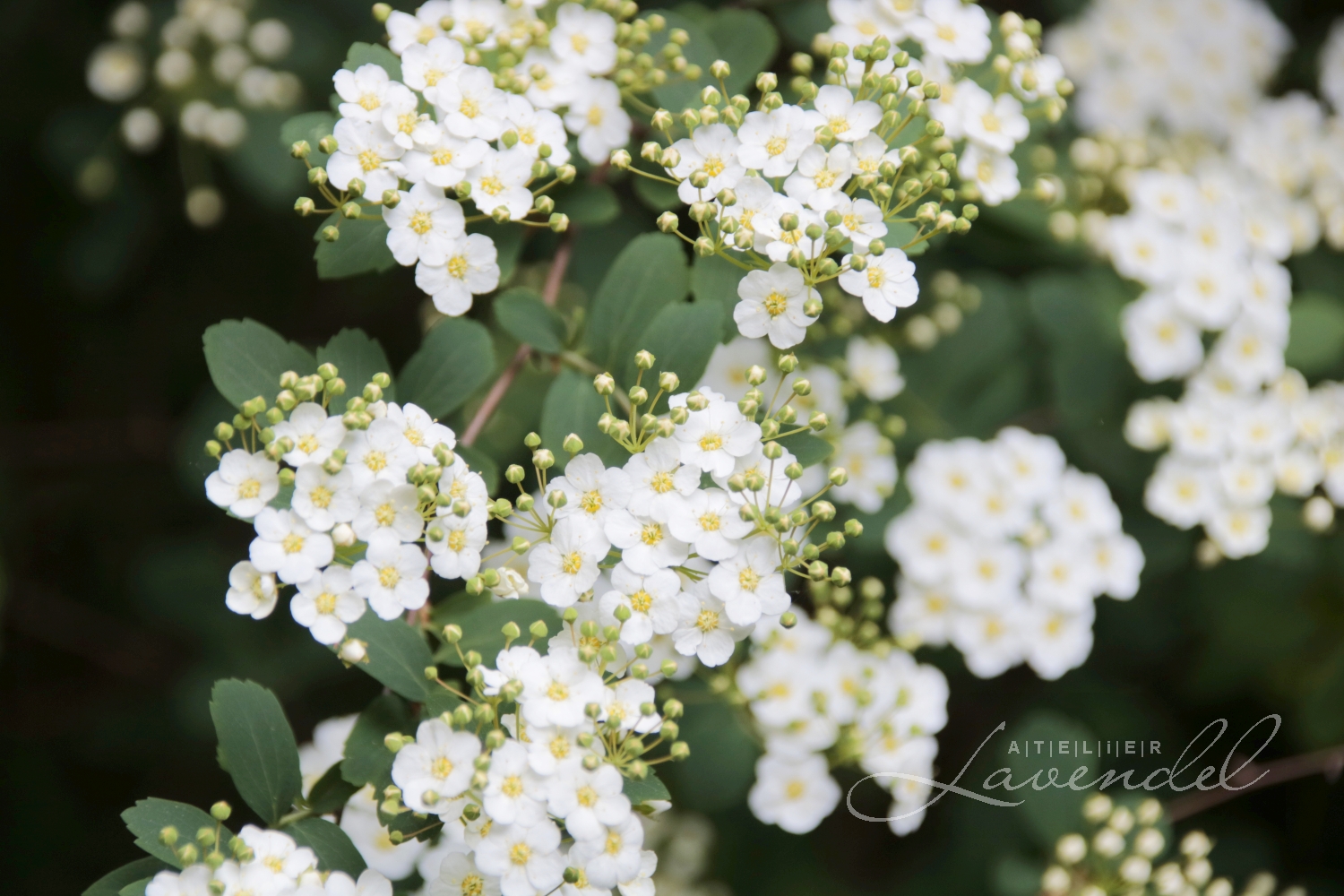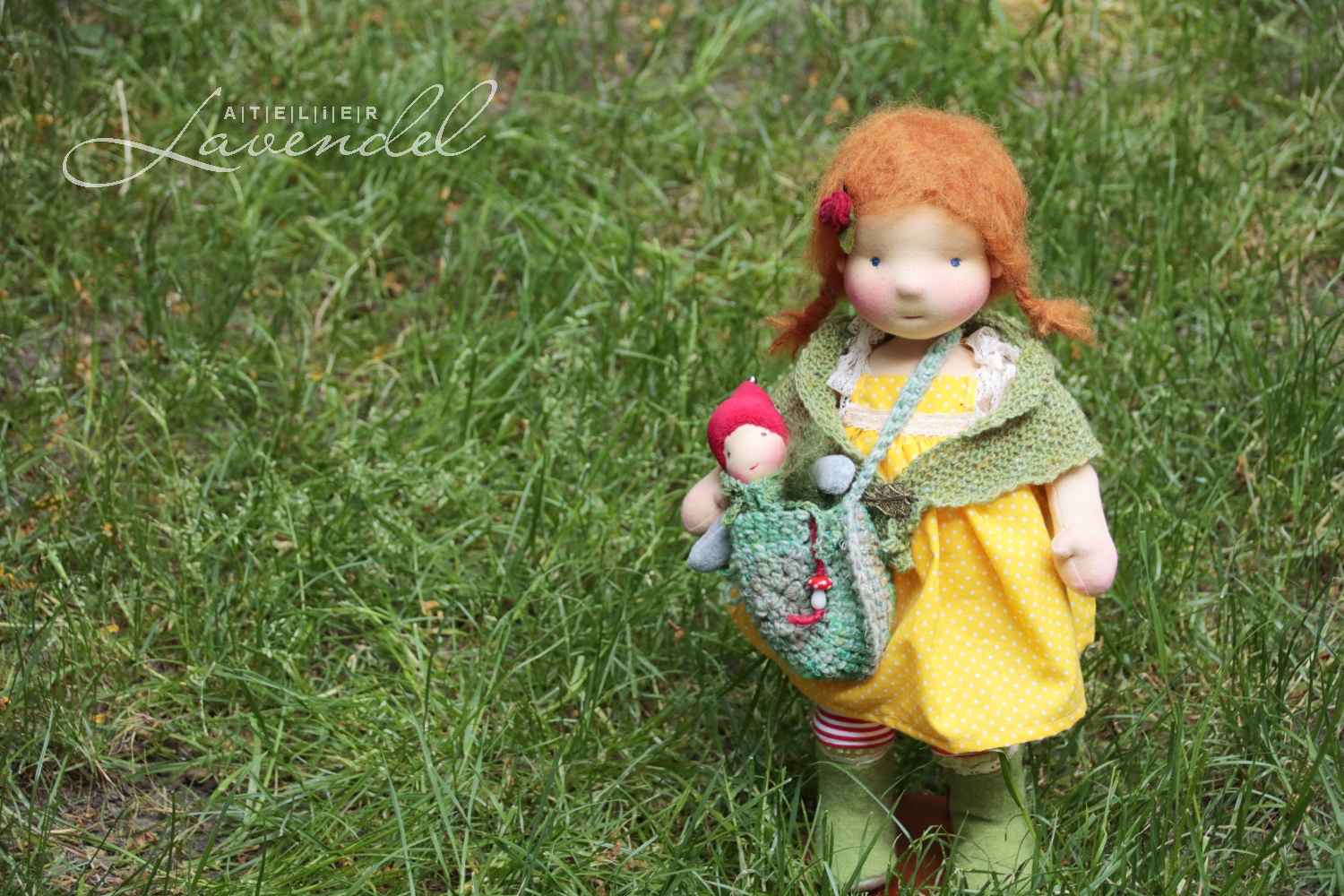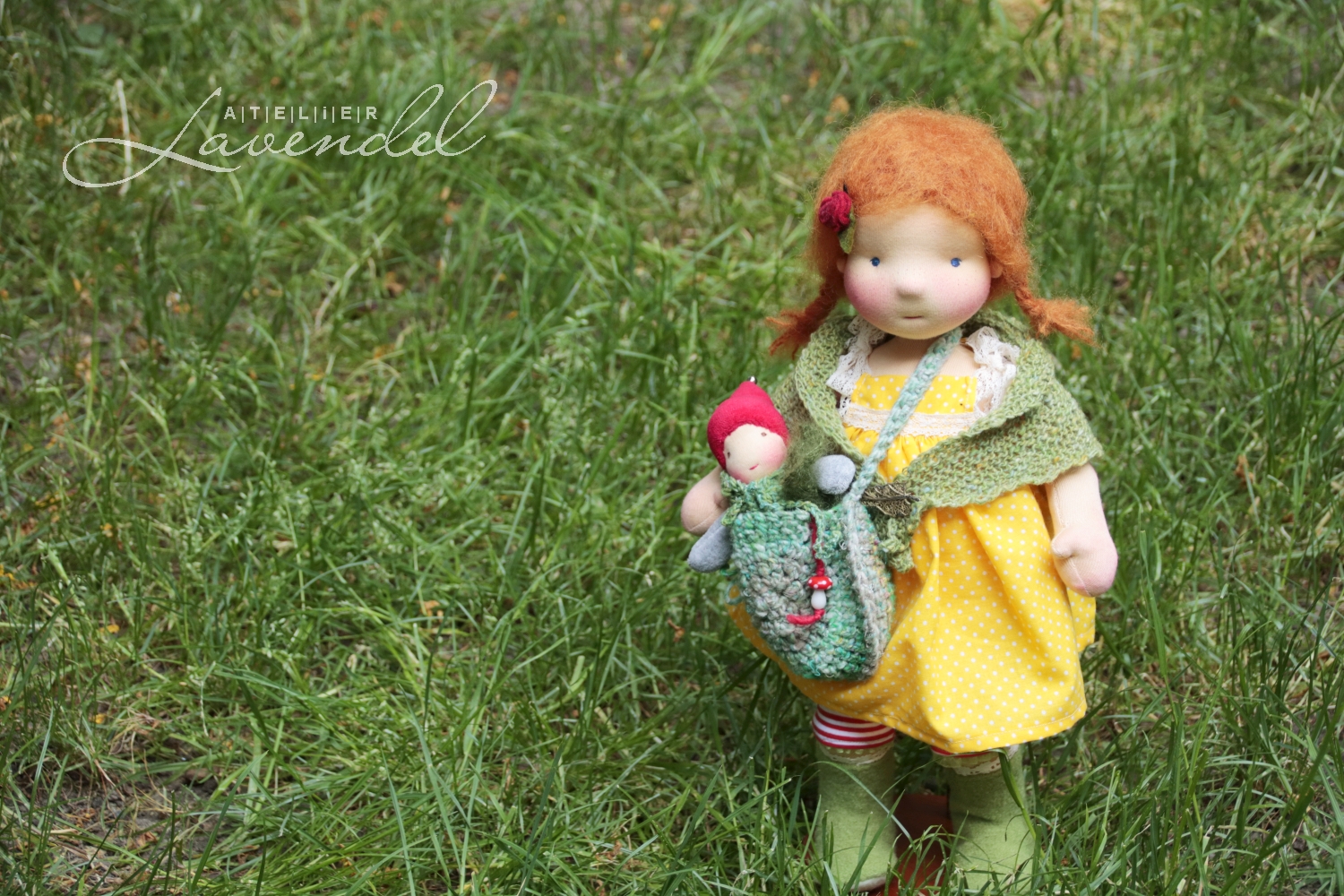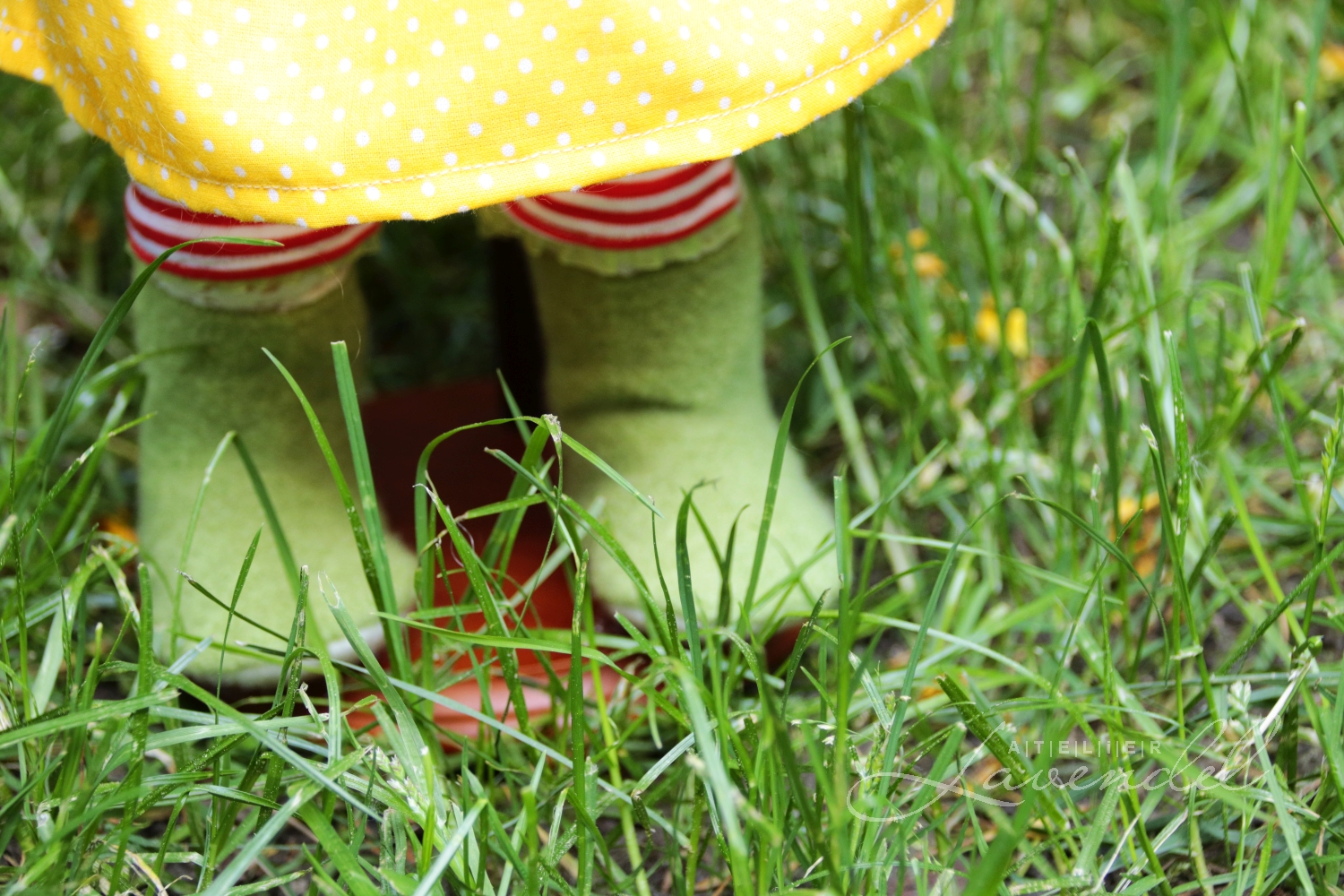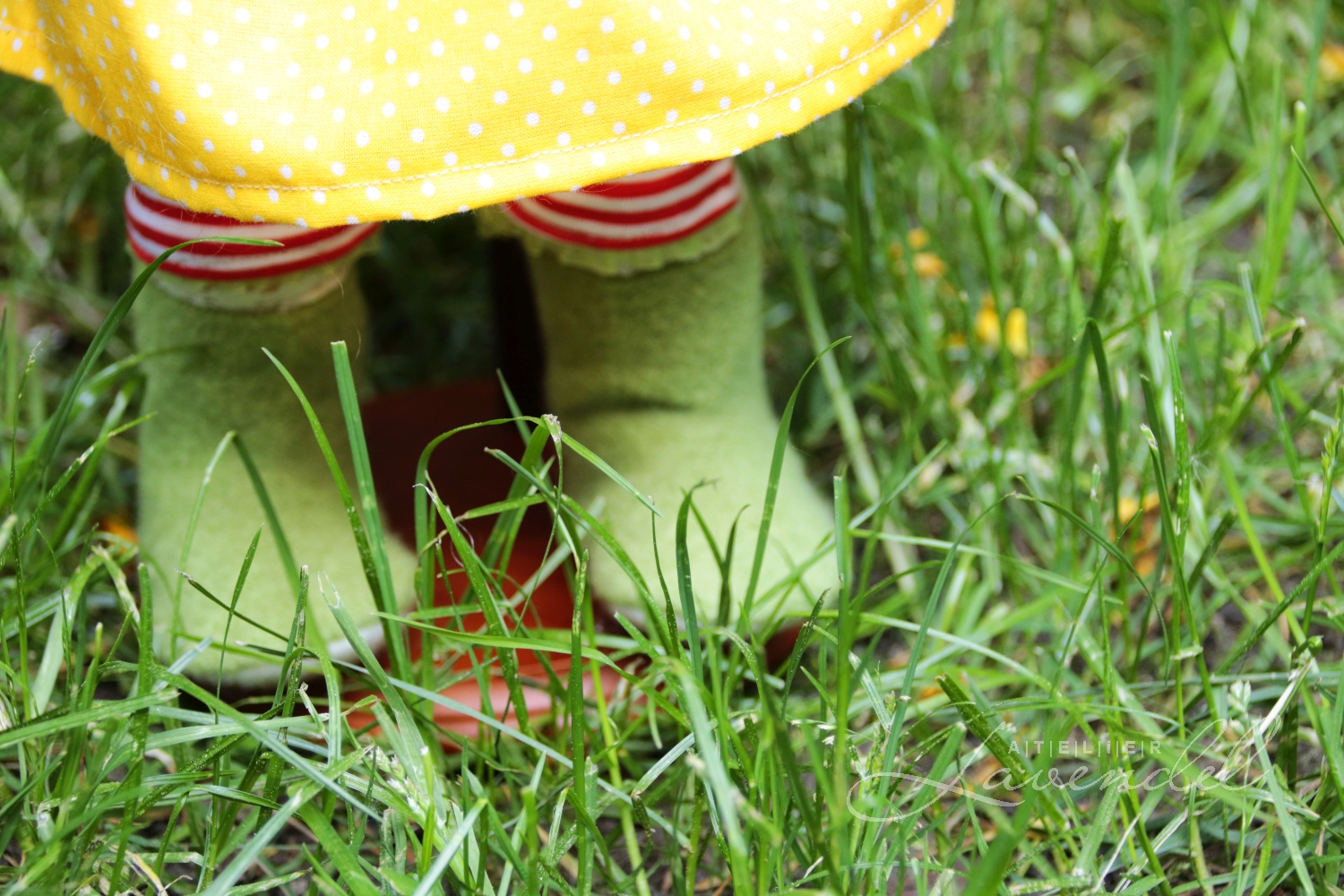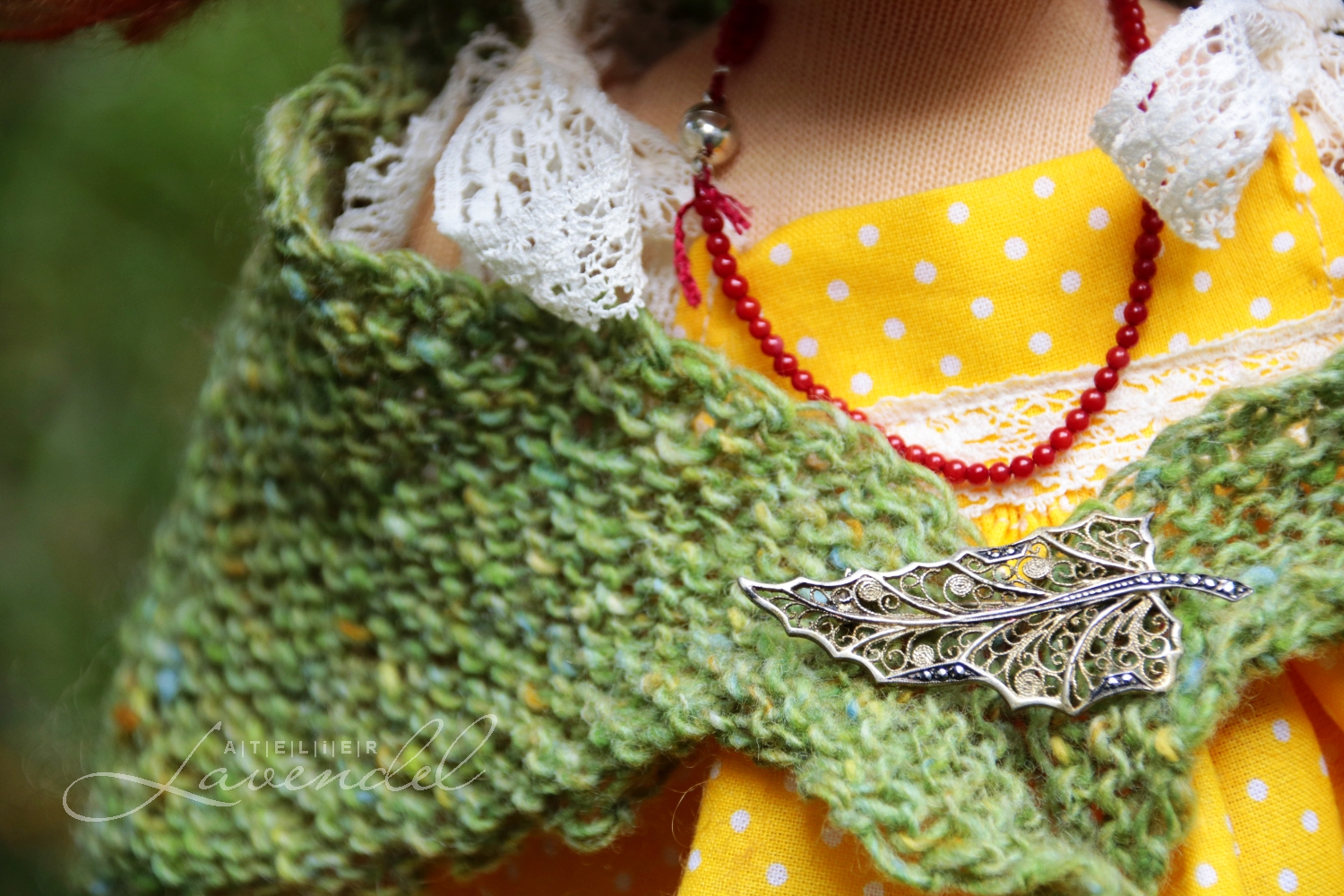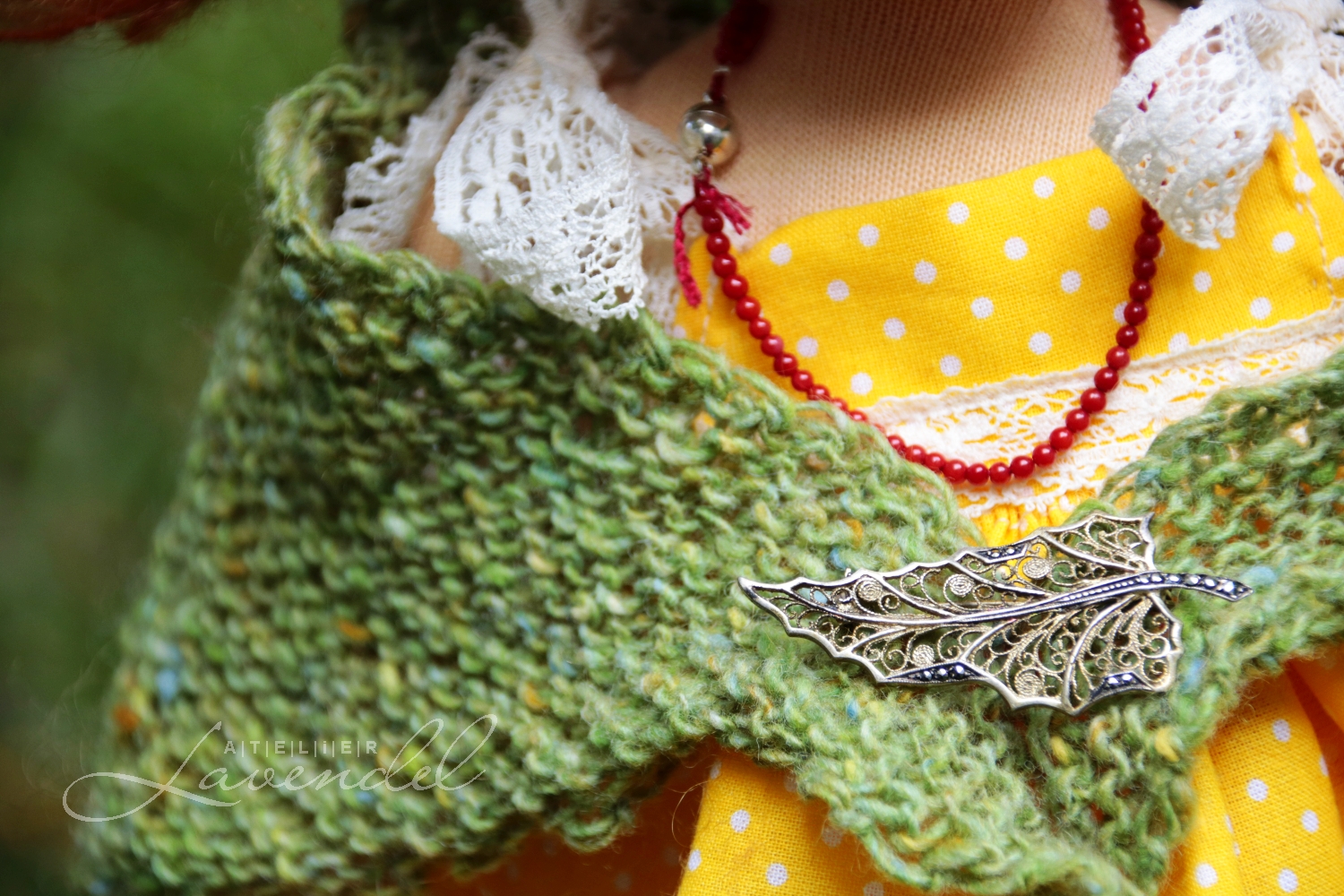 I want you to meet Lenni and Max. Lenni is an OOAK wal­dorf nat­ur­al fibers doll, stand­ing 16 inch­es, hand­made by Ate­lier Laven­del with lots love and care. Max is her tiny baby doll.
Lenni wears yel­low pol­ka dot­ted dress, dec­o­rat­ed with orig­i­nal antique Ger­man West­phalian cot­ton lace, white-red stripped leg­gings of organ­ic cot­ton, undies beneath and booties of green and white felt, made of pure wool. I made her large cowl with orig­i­nal Done­gal Tweed. She loves her del­i­cate vin­tage Scotch broche with sparkling marcasite's , which she is using as a cowl clo­sure. Her hair pin is dec­o­rat­ed with a red hand felt­ed rose of Aus­tralian finest meri­no wool. All her clothes are remov­able and wash­able.
Lenni´s spe­cial heir­loom is her gen­uine red Coral neck­ace. Coral is believed to increase self-esteem and ener­gy. Bal­ances and dis­si­pates neg­a­tive ener­gy. Pro­motes suc­cess, abun­dance and clear think­ing, pro­tec­tive and lucky when worn as jew­ellery. Tiny 2,5mm Coral beads are strung here on a silk cord with the ends left dec­o­ra­tive­ly to fray. This neck­lace is to close secure­ly and com­fort­ably with a mag­net­ic sil­ver met­al clo­sure. It is 7 inch­es long, so that it would make a sweet bracelet to a girl or young woman.
Lenni has blue eyes, which are care­ful­ly hand embroi­dered. Her hair is made with Dol­ly­Mo mohair. It is cro­cheted into a cap with her braids fas­tened on both sides of her head pony-tails style. It can be restyled and gen­tly combed. This doll has a neck, ears, a bel­ly but­ton and a sweet bum. Her head is soft sculp­tured of clean organ­ic sheep wool. Through the inner arma­ture in her neck the head is slight­ly mov­able, gen­tle but most expres­sive ges­tures and expres­sions are pos­si­ble. The body is firm­ly stuffed with 100% organ­ic pure wool; the "skin" is of high-qual­i­ty 100% cot­ton inter­lock from tra­di­tion­al Swiss man­u­fac­ture.
Her shoul­der bag with a lamp work mush­room pen­dant is cro­chet wit my favourite eth­i­cal­ly made wool/silk/mohair fibre. Tiny friend of Lenny, she calls her Max, is usu­al­ly sit­ting in this car­ry bag quite still and look­ing around. Max is wear­ing light blur over­all of organ­ic cot­ton vel­vet, which can not be put off. Her hat and cowl of gor­geous wool/wild silk blend in gen­tle shades of green and beige, as well as her tiny blan­ket of lace weight mohair can be put off. Her hair of Dol­ly­Mo mohair can be gen­tly fin­ger combed.
This doll is made to be a com­pan­ion and a true play mate with­in a free imag­i­na­tive play and can be hand washed in a basin with a mild soap. Because of her del­i­cate hair I rec­om­mend spot clean­ing as long time as pos­si­ble.
Lenni and Max are now avail­able here.