I want you to meet Lina! With all the vibrant colours of sparkling blue, light pink and glow­ing red she is cel­e­brat­ing the last gen­tle sun­ny days before comes autumn to show all its pow­ers in this parts . Howew­er, we do not want to miss pol­ka dots,
cot­ton lace and gor­geous plant dyed wool, don't we?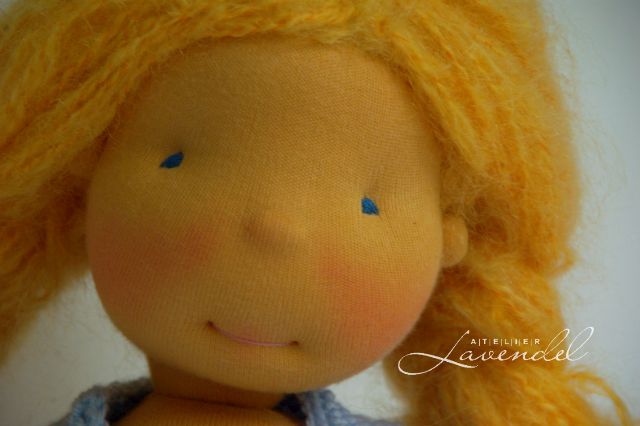 Lina is a 18in (45cm) OOAK cloth doll by Ate­lier Laven­del.
She is lov­ing­ly hand­made by me using organ­ic high qual­i­ty mate­ri­als only.
Enjoy lots of tiny sweet details to be dis­cov­ered here and there!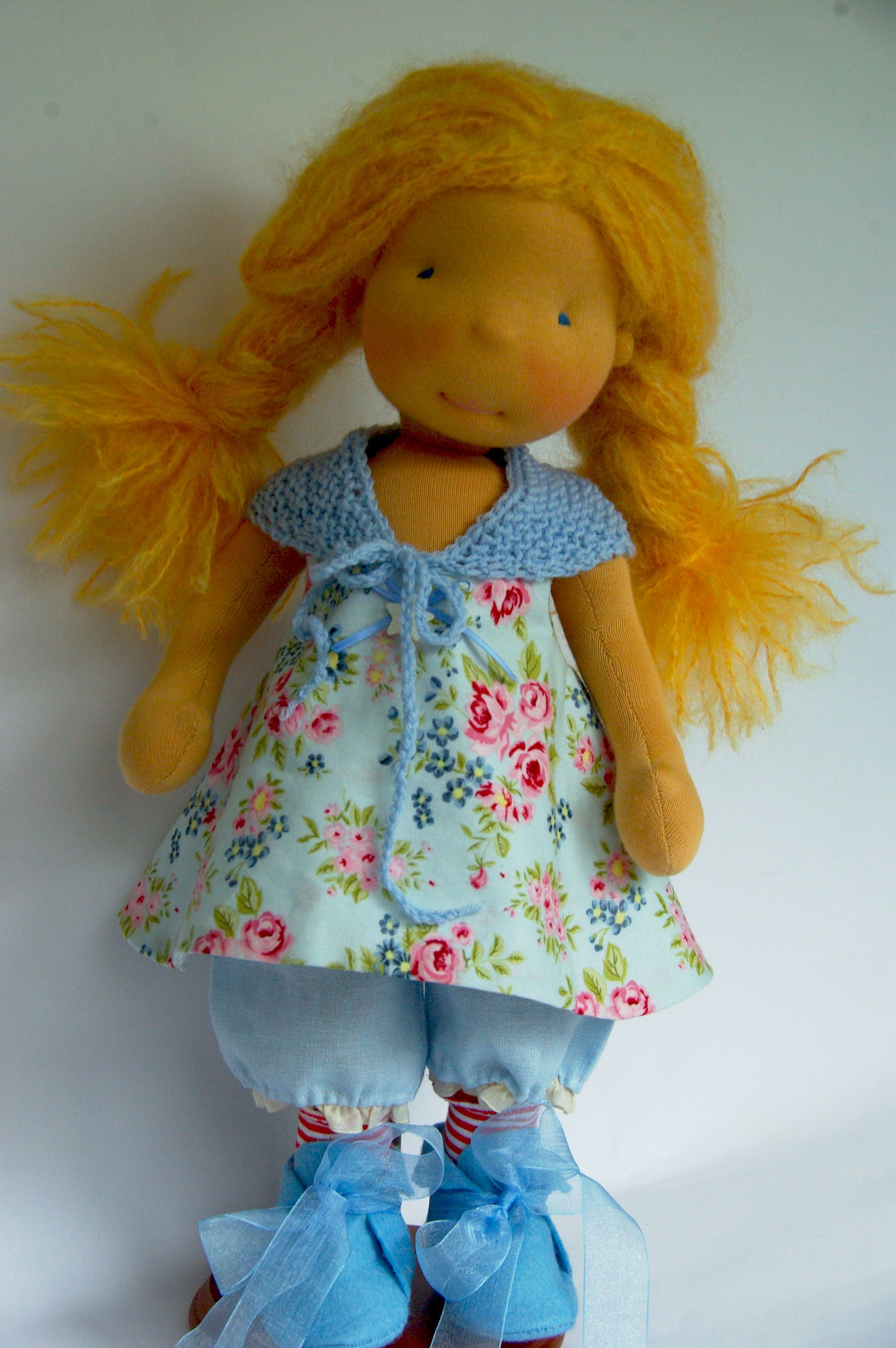 Lina is wear­ing a pink pol­ka dot­ted cot­ton dress, dec­o­rat­ed with cot­ton lace, white cot­ton jer­sey panties beneath (the last is not pic­tured). Her trousers are made with light blue linen fab­ric. My favorite is her sweet reversible tunic: made with nos­tal­gic flow­ered cot­ton and dec­o­rat­ed with a sea shell star, on the one side. On the oth­er side it is made with cot­ton fab­ric, designed by great artist Tah­sa Noel, with tiny mush­rooms on it. The tunic is to close with a pair of sea shell but­tons in the shape of daisy flow­ers. Lindy's baby-blue shoes are of pure high qual­i­ty wool felt. Her knit­ted cowl is of meri­no wool. The roy­al blue silk flower in her hair is a safe­ty hair­clip. It can be put off. Dolls out­fit is com­plet­ed with a pink cro­cheted hair band, made with plant dyed wool. her neck­lace is made with a cot­ton cord and a gen­uine turquoise roundel.
All her clothes are remov­able and wash­able.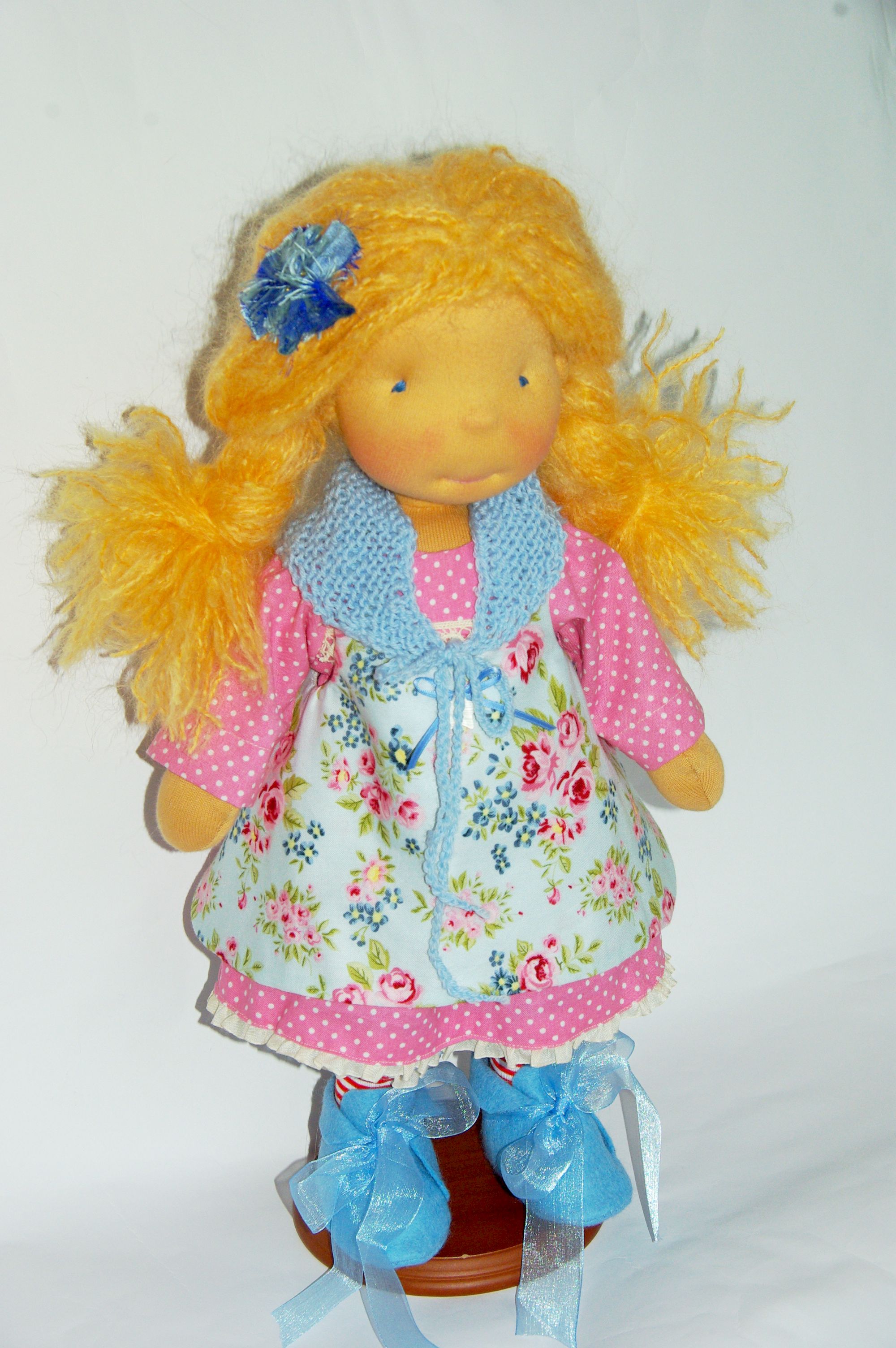 This doll has blue eyes, which are care­ful­ly hand embroi­dered.
Her long bushy hair is mohair, any hair styles are pos­si­ble. This doll has ears and neck, sculp­tured knees and elbows, a bel­ly but­ton and a sweet bum.
Her head is sculp­tured of card­ed new wool in the tra­di­tion­al Wal­dorf style
of Euro­pean doll mak­ing.
The body is firm­ly stuffed with 100% organ­ic pure wool; the "skin" is of high-qual­i­ty 100% cot­ton inter­lock from tra­di­tion­al Swiss man­u­fac­ture.
My dolls are stur­dy and have free mov­able arms and legs.
They are made to be a com­pan­ion and a true play mate with­in a free imag­i­na­tive play.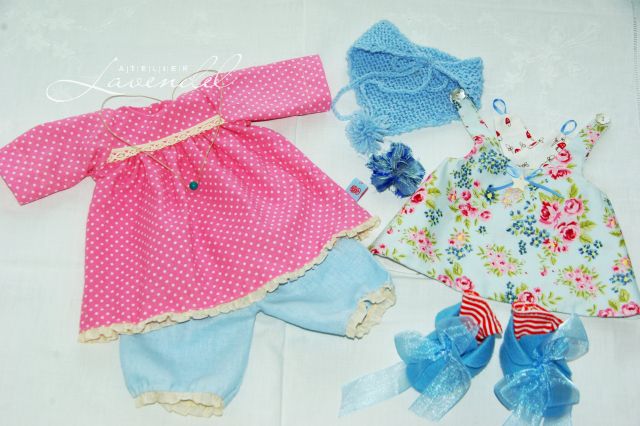 Lina is now avail­able here.
♥♥♥